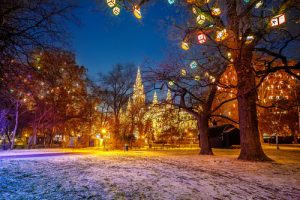 At Cabin Creekwood, we get extremely excited for the Holiday Season. There are many events that take place between Thanksgiving and New Years' Day near our premier cabins in Virginia. It's always a treat to go take a short vacation for the Holidays. It can do wonders for your family – give everyone a much needed break, get out and see lights, sit by a fire and roast marshmallows, sip hot chocolate from the porches of our cabins, and bring a feeling of closeness everyone may have lost over the course of the previous year.
Staunton, Virginia is located a short drive away from Cabin Creekwood and is a great place to spend the day if you're looking to get into the festive holiday spirit. The weekend of December 2nd holds a promising itinerary for the whole family.
On Saturday, December 3rd from 1-4pm, you can take the kids to the Kitty Petting Zoo benefiting the Humanitarians of Ped Education, or H.O.P.E.. The event will take place at Harmony Moon, a specialty gift shop in Historic Downtown Staunton. The kittens will be "free range" for folks to pet, helping to socialize the kittens for their adoption. 10% of proceeds from purchases at Harmony Moon will be donated to the H.O.P.E. cat rescue organization.
Also on Saturday, from 5-8pm, historic Downtown Staunton will be hosting its Annual Holiday house tour. Five private homes that exemplify the restoration and preservation of Staunton's historic architecture. This walking tour also includes the Old Main building of Stuart Hall, and will be a great opportunity to view all the magnificent holiday decorations that blanket the town. If you miss the evening tour, you can also tour Sunday the 4th from 1-5pm.
If you want to see your kids eyes light up with joy, visit Gypsy Hill Park in Staunton from 5-11pm any night between November 21st to January 1st. The park has been described as a "Fairyland of Holiday Lights," and if you're like us, you are never too old to see Christmas Lights. This event is free and open to the public.
For a family vacation that is sure to get you in the Holiday spirits, visit our cozy cabins in Virginia at Cabin Creekwood!