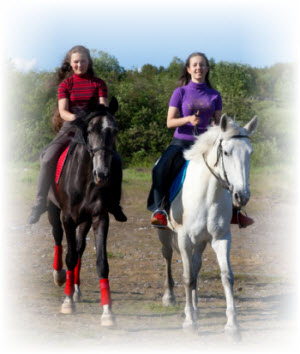 Riding horses through Shenandoah Valley farmland is a great way to explore the out of doors, and take in the scenic beauty that the Shenandoah Valley is famous for.  Star B Stables has been providing horseback rides for many years.  We frequently send our cabin guests there for a trail ride, and they consistently return with stories of how friendly the staff is, and how enjoyable the ride was.
Star B Stables is proud to provide you with the opportunity to "escape" for an hour and ride through the countryside.  Their horses are well trained, and their staff is very competent.  Kids are welcome.  Some of their horses are gentle enough that even our daughter was safe and comfortable at six years of age!
No experience is necessary.  Your trail ride will be led by an experienced guide who will provide you with instructions and assistance so you can relax and enjoy without worry.
Rides are offered year round depending on the weather.  You'll want to call and make an appointment.  There number is 540-885-8855.  You can also find out more information on their website at www.starbstables.com.