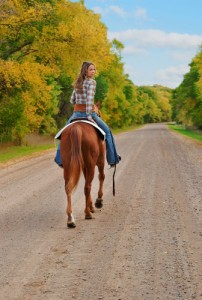 Located one mile from Sherando Lake and a few short miles from Waynesboro and Staunton, the areas around Cabin Creekwood offer the opportunity to experience fall like no other destination location.
We can personally recommend horseback riding through the mountains for a great autumn day trip.
We can say, from experience, that there is nothing quite as refreshing as a nice horseback ride in the cool crisp autumn air. There are several locations to begin your adventure around the area. We recommend Star B Stables in Staunton, Virginia or Appalachian Horse Adventures in Montebello Virginia.
Both these venues offer guided horseback trail rides into the beautiful Virginia countryside. Imagine viewing Virginia like never before, trekking through wooded trails, open fields, even crossing creeks. With the colors of autumn surrounding you, let your soul slip into the disconnect from your regular bustling lives, and enjoy the world right before your eyes.
Overall, there are many things to do around Cabin Creekwood and around Lake Sherando. From the hiking trails to the picnic opportunities, this area provides some of the best ways to let the calm of autumn sink in. If you're looking for a family fun and exciting day adventure to get into, look into Star B Stables or Appalachian Horse Adventures. Have fun, and happy trails.