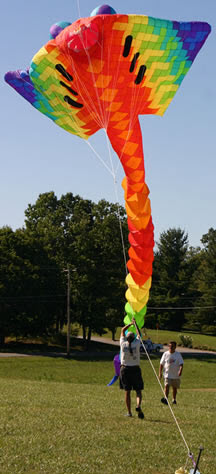 Saturday, September 29 from 10-3pm bring out the entire family for Kite Day at Coyner Springs Park.
I once heard someone say that kites are the perfect combination of art and science. To me, kites never seemed that specific—as a kid I didn't even care so much what my kite looked like, I just liked that tug I felt when it shot upwards, swaying me along with the breeze. I can still feel it… that little upward kick any kite will give once propelled into the sky, and that half-second of fear that I'll be taken up with it!
I remember one extremely hot summer afternoon when my best friend and I trucked to the local park for Kite Day, an annually anticipated event. The two of us marched along, dragging our life-size kites; mine was an elephant, ready to march across the sky and scare off all the birds. But as we made our way over to the park, our excitement got the best of us and we decided to skid down a grassy hill in aim of a shortcut.
Mid-way down, my shoe caught on the trailing string of my kite, sending me downward. During the tumble, my kite caught on a rock—ripping a hole right in the center of the elephant's gut.
"It might still fly!" My friend Chrissy had comforted me, as I brushed dust and dirt off my knees.
Kids aren't easily deterred, especially when it comes to Kite Day. Case in point: I ignored the sting in my elbow, the throb in my right wrist, swallowed back my tears and kept moving towards the affair; broken kite and best friend, in hand.
The greatest thing about Kites? Kid-proof; a little rip doesn't ruin them for good. Kites are resilient, the wind caught through the split in my elephant, and only created a whirl of motion that got more attention than it might have otherwise.
Make your Own Memories at Coyner Park
Located only a 15 minute car-ride away from Cabin Creekwood, is Coyner Springs Park, a 300 acre spread full of wildlife, nature, and even a dog park! Each year the park holds a Kite Day in September, one that offers so much more than just a chance to fly kites—torn or still intact! There is also face painting, food, hayrides, parachute racing and an assortment of spectacular kite flying to witness– much more than your standard diamond-shaped kites, the attending seasoned-pros fly kites that cost thousands of dollars, offering breathtaking views while picnicking or even enjoying a hay ride!
Perfect Weather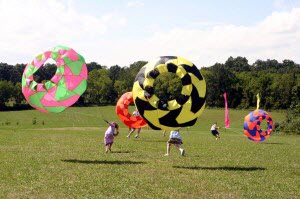 There is no better time to enjoy the wonders of kite flying than the end of September. Lingering hints of summer leave the skies warm and sunny, but a slight wind has shifted into town—making the art of kite flying easy. As anyone who has ever tried to fly a kite without wind can attest to: it simply won't work! Yet, in the right weather, even the smallest members of your pack can relish in the simple joys of flying a kite.
American Pride
Kite Day wouldn't be complete without the traditional American Flag ceremony that takes place, allowing visitors to enjoy the heart of American culture. Kids are incorporated into every aspect of the day, side events allow them to run beneath and goof around with huge flags and parachutes.
As flags and kites both beautifully sway in the wind, you will notice some extra special displays; such as the patriotic kites, so large in size they appear to be looming giants in the sky. Your heart will sing with pride, as you and your family enjoy a day of American-style entertainment.
A Whole Day of Fun
Bring the bare basics for a day out in the sun, let the kids enjoy the simple things in life: sunshine, kites, and the great outdoors… plus, so much more in terms of food and entertainment. Come enjoy a day you and your family will never forget, that time you look back on with such fond memories—a day too perfect for words.