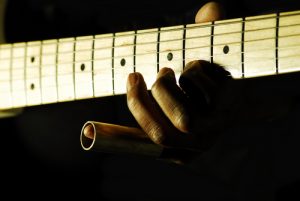 Located in the heart of the Allegheny and Blue Ridge Mountains, Cabin Creekwood offers some of the most cozy and relaxing cabin rentals Virginia has to offer. If you are a fan of live music, the area offers many ways to get your music fix. From rock to folk, the area has great venues and opportunities to see artists perform their music live. Check out a few of the local options in Staunton, Waynesboro, and Charlottesville, Virginia.
In Charlottesville, the popular venue is the Jefferson Theater. From time to time hosting everything from rock, bluegrass, reggae, country, metal and hip-hop, the historic Jefferson Theater is a venue that shouldn't be missed. Established in 1912, the theater that once hosted acts such as Harry Houdini to The Three Stooges still has much of the original charm. Boasting state of the art sound and lighting, the Jefferson Theater is an excellent environment in which to experience live music.
Another venue further down the road is the Oak Ridge Estate. While this is normally a wedding and event venue, often there is live music. The most well known event on the estate is the Lockn' music festival. The lineup for 2017 features bands from folk rock to jam bands. Though the lineup is scheduled for August, Oak Ridge Estate is still a nice venue to visit for the history and scenery. For festival or just visiting, Oak Ridge Estate is a place you definitely don't want to miss if you're staying at Cabin Creekwood.
The region is rich with culture and history. For music lovers, the heart of the Shenendoah is the perfect place to be. For any cabin rentals Virginia you may need, call us at Cabin Creekwood. We guarantee the most relaxing vacation you've ever had. Let us turn your trip into the vacation of your dreams – call us today!