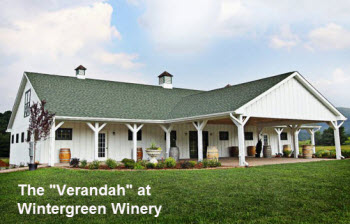 Virginia is full of vineyards; some of these vines are yours for the picking! Visiting a winery can be a real blast; not only do you get to learn the finer points about wine, all while enjoying a picturesque environment, but you will also be in the company of family and friends. Plan a wine tour and hop around to a few different locations, or simply spend a day at one vineyard, either way here's a list of the nearest vineyards to Cabin Creekwood to get you started.
Wintergreen Winery
Distance from Cabin Creekwood: 5 miles, 10 minutes
Wintergreen Winery is the closest to Cabin Creekwood, and provides incredible views while offering tastings of a variety of white, red, and fruit wines. "The Verandah" is available to reserve for special occasions, including weddings, reunions, and receptions of any kind. This beautiful facility provides an indoor/outdoor setting that is perfect for your next event. Wintergreen also holds many events with live music, festivals, and more.  Be sure to check out their website for upcoming events.
You can visit there official website here.
Veritas Winery
Distance from Cabin Creekwood: 18.0 miles, 35 minutes
Have you always dreamed of having the perfect picnic? Now you can. The folks at Veritas offer a number of dining options, one of which includes a picnic that can come with or without wine tasting. They carry a number of wines at a variety of price points, so you can find the grape most intoxicating to your taste buds. Winemaker Emily is talented at what she does. In proof she has been awarded the Judges Choice Award. Learn the entire process that goes into each glass of lovingly made wine at Veritas. Set up a tour, have some lunch, or throw a dream come true wedding.
Visit Veritas Winery's official webpage here.
Afton Mountain Vineyards
Distance from Cabin Creekwood: 18.7 miles, 38 minutes
From now until February, this family owned and operated vineyard is only open Friday, Saturday, Sunday, and Monday. If you are lucky enough to be around on one of these days, you're in for a real treat; Afton works hard to offer the most delicious wines. Afton Mountain is appropriately named, as a sea of mountains surrounds it. This is a great place to go with a group of friends for wine tasting. One can even rent out a banquet room for an affair.
Visit Afton Mountain Vineyards official webpage here.
Cardinal Point
Distance from Cabin Creekwood: 19.5 miles, 37 minutes
Under the ideology that not all 'good' wine tastes that great, Cardinal Point creates wines that are not only top-notch but that taste amazing as well. Winemaker Tim Gorman was born and raised in Virginia, although he's traveled to places like Germany and France, gaining unique experiences with fine wines. Highly acclaimed, Tim is never too busy to connect with the guests enjoying his wine. In fact, he's almost always around for a chat. Come with questions, and he'll gladly give you an answer. Cardinal Point often serves live music with their wine. Bring the whole family for a great time.
Visit Cardinal Point Winery's official webpage here.
Barren Ridge Vineyard
Distance from Cabin Creekwood: 21.4 miles, 39 minutes
You will feel the love in the land here, and for good reason; the grounds have been in the Higgs family for many years, even before they decided to convert their apple orchard into a sprawling winery. Come by any day of the week for a wine tasting. You'll be sipping nothing less than the best, of course! There's way more than wine at this location. There are restaurants, shops, and the location itself is so beautiful that it has become a popular place for weddings. Also, there are a number of outdoor activities to enjoy in the immediate area.
Visit Barren Ridge Vineyards official webpage here.
Lovingston Winery
Distance from Cabin Creekwood: 26.8 miles, 44 minutes
Here you will have 7 delightful wines to choose from, including a Merlot dating back to 2006. Made with the finest grapes, you'll be glad you don't have to pick just one. Instead, you'll be able to try them all! The best part is that if you find a wine you love, you can order bottles as you please directly through the vineyard's website! Friendly atmosphere, beautiful scenery, and delicious wine—what more could one ask for? Keep in mind, through the months of December and March you will need to call ahead to make an appointment for wine tasting.