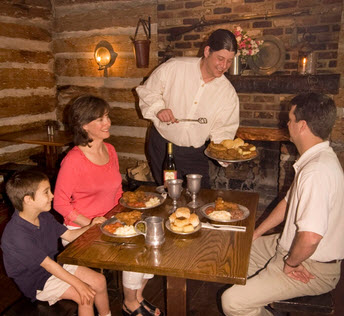 Recently my mother and sister came to visit, and while they were here, we took them to eat at Michie Tavern in Charlottesville. We had been wanting to experience that for about 15 years, but for some reason never took the time.
I can report that it is an experience worth having.
Pulling onto the grounds, it quickly becomes evident that this is not just a restaurant, but truly a dining experience. As we climbed the steps and made our way along the brick walk, we were greeted by a hostess in period dress, guiding us along our way. The place was already full, so we waited for a few minutes outside the entrance, until the indoor hostess invited us in.
We made our way through the serving line, where we piled our tin plates high with authentic, home-cooked food. Mashed potatoes and gravy, black-eyed peas, stewed tomatoes, cole slaw, green beans, baby beets, cornbread and biscuits, fried chicken, baked chicken, and pork barbecue. Their southern fried chicken is probably the best I've ever eaten! Our drinks were served in a tin cup – we chose apple cider.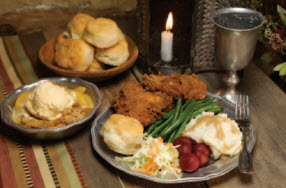 We chose to dine in the original part of the building instead of the more modern addition, so it did feel like we were back in time. Our table was made of oak, and we sat on wooden stools. Every so often, waiters and waitresses in period costume came by to keep our plates filled. You could almost imagine Thomas Jefferson himself ducking through the door and sitting at the table next to us.
The experience is fairly expensive, at $16.95 for adults, but I would gladly go again. For more information, visit the web at http://www.michietavern.com/