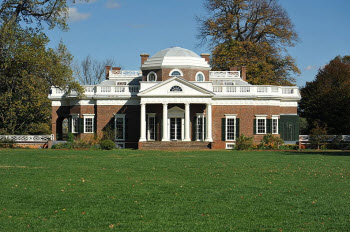 Thomas Jefferson, founding father and beloved Virginian, made his home not far from Cabin Creekwood, within a 40 minute drive near the city of Charlottesville. The third president's plantation estate is now an historic museum open to the public for tours and other special events. Monticello has been beautifully restored much to its original state. While touring the grounds, you get the feeling that the separation between past and present is becoming obscured with the well maintained artifacts that fill the home. Monticello's excellent condition reflects the thoughts and principles that influenced our nation. Jefferson was a man ahead of his time; at Monticello he experimented with techniques, ideas, and devices to improve aspects of life.
Thomas Jefferson began building Monticello when he was twenty-six years old, three years later he married his wife, Martha. Thomas and Martha Jefferson planned to raise a family at Monticello, together they had six children but only two survived to adulthood. Of Jefferson's two surviving children, Martha Jefferson Randolph lived there with her own children and eventually inherited the estate after Thomas Jefferson's death in 1826. Martha Randolph inherited not only her father's mansion but also the plantation's debts. Burdened with the debt, Martha Randolph was unable to keep the home and sold Monticello in 1831. After a few changes in ownership, Monticello was finally bought by the Thomas Jefferson Foundation in 1923. The non-profit organization has since opened the historic home to the public as a museum.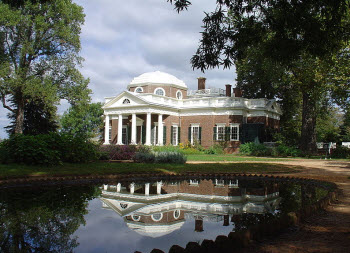 Martha Randolph sold Monticello to James T. Barclay, who then sold it to Uriah P. Levy in 1834. Levy was an admirer of the third president and began the restoration effort of Monticello in tribute to Jefferson. Repairs continued when Uriah Levy's nephew, Jefferson Monroe Levy bought the plantation in 1879. By the time the Thomas Jefferson Foundation acquired the home in 1923 there were still repairs needed before it was opened to the public. Amazingly, over half of the original furnishings that were sold off after Jefferson's death were recovered and brought back to Monticello. Restoration of the architectural moldings, details and wall coverings was accomplished by following the detailed instructions that Jefferson himself left behind in his writings.
Thomas Jefferson was a true innovative, visionary mind. His forward thinking was freely expressed at Monticello with his many uncommon home design features as well as his unique vegetable and botanical gardens. Much of the house was designed by Jefferson himself, with ideas he brought back from France when he served as Commissioner and Minister, such as indoor privies, stew stoves in the kitchen for sautéed French meals, and Venetian porches. The gardens were filled with uncommon flowers and vegetables. Jefferson experimented with fruits and vegetables imported from Mexico, Italy, and France as well as seeds brought back from the Lewis and Clark expedition. Most of Jefferson's diet consisted of fruits and vegetables, his gardens were built with ambitious methods of protection. It is truly amazing to see the careful planning and forethought that went into the construction of the home and gardens.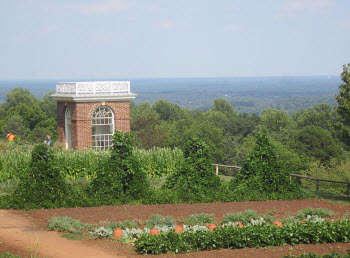 Monticello is a truly inspirational place to visit. The home is a very practical dwelling, but by no means a simple home. Strategically placed dumbwaiters, beds built in to space saving alcoves and sky lights are evidence that Monticello was built to the needs of its occupants, not just as a building to live in. Monticello is a convenient attraction to visit, open every day except Christmas. Tickets can be bought online and tours start every 20 minutes. With its beautiful scenic mountain views, custom home design and smart gardens, Jefferson's ideals and legacy come to life. Once you visit Monticello it is easy to understand why this man was an inspirational founding father.
*images in this article are from Wikipedia