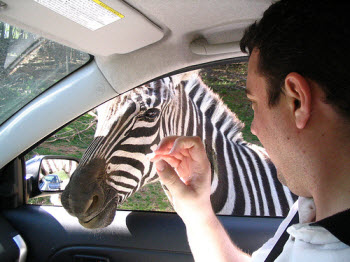 Visiting any zoo is exciting, despite the fact the animals are typically kept far out of reach– behind poles, wire, and layers of fencing. Imagine how exciting it would be to see these animals in their normal habitat– out in the wild with nothing between you and them? Picture yourself driving your vehicle through terrain, wild animals running on all sides—your kids are in back, giggling as they feed the passing animals food through the windows.
At the Natural Bridge Safari Park this too good to be true scenario is actually a reality. You don't have to travel all the way to Africa to go on a Safari tour! The only thing is—instead of a potentially obnoxious tour guide… you have the option to drive your own vehicle through this safe exhibit. Along with exploring your wild side, there are many other reasons to check out one of the region's hottest attractions!
Animals + Scenery
As you take in the overwhelming sight of wild animals all around, the Blue Ridge Mountains will be sitting ideally in the backdrop. These sprawling hillsides make a picturesque scene by themselves; paired with the wildlife, and the fact you're in your own car, and you'll feel like you are truly dreaming. You won't have a chance to get too distracted by scenery though, not with that bucket of feed you'll be equipped with—which will have the whole flock of animals on your tail! As they approach your car for a handful of feed, you and your family will have the perfect opportunity to pet and bond with them.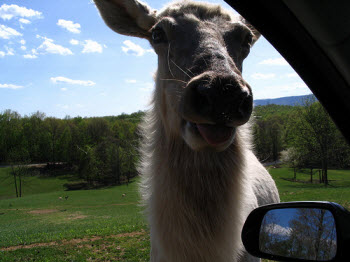 If you're hesitant about driving your own vehicle through wildlife, you can book a tour on one of the public wagons that run through the park. Either way, you will enjoy a huge variety of animals, some of which are endangered. The flock includes, but is not limited to, zebras, camels, deer, bison, swamp water buffalos and so much more! Yet that's not all; there is a completely separate adventure waiting for you at the adjoining Safari Village walk-thru.
Safari Village Walk-Thru
In 2005 the park decided that the 3-mile drive through your own personal safari was simply not enough and they expanded the place to include 10 acres of land to explore by foot. Here there awaits beautiful bengal tigers, kangaroos, cheetahs, a reptile house, monkeys, and many other animals a little too dangerous to put out with all the cars! Of course, there is also more interaction with the animals such as Lorikeet Landing, where birds will land all over you to eat the cup of nectar you can hold. Along with a separate petting zoo, Safari Park also offers a walk through zoo with kangaroos, try and get a peek at the joey potentially tucked in their little pouches.
Two Parks for the Price of One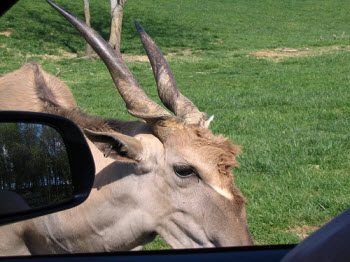 Safari Park strives to bring kids and animals together by offering a truly intimate experience. In any exhibit possible, there are opportunities to feed and pet the animals. The natural environments the animals live in make the experience more realistic; in some cases visitors are lucky enough to see a birth take place before their very own eyes! Of course, what you will witness depends on the time of year you visit.
With so much to offer, Safari Park is often referred to as 2 parks in 1! No matter if you are on the safari drive-thru or out walking among the Kangaroos, you'll notice how ideal the environments provided by Safari Park are for the animals, they also grant visitors a more accurate and eye opening look at natural wildlife. Getting up close and personal with the animals will be a great experience for the whole family! To plan your personal safari, check out the official webpage here.
Photos courtesy of _rockinfree.