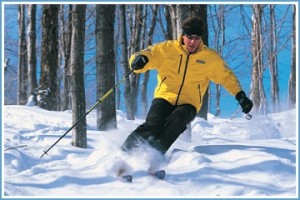 There is still about 10 days left before the New Year, but natural snow is coming to Wintergreen Ski Resort! That's right! Weather forecasts for this period are calling for colder temps around New Year's Eve and New Years Day. Cabin Creekwood's Wintergreen Rentals are a great option for small groups and couples that are coming up to Wintergreen Resort for a fun ski vacation. Lows are expected to finally dip just below freezing, and Christmas Eve night the 10 day forecast currently shows some precipitation moving in during that time. That could easily be SNOW! At the very least, the temps will finally be cold enough to support the snow guns in their efforts to blanket the mountain with that slippery stuff that we all love this time of year.
Wintergreen Resort is an amazing ski resort in Virginia, filled with lots of fun activities for all ages. If you are not into skiing or snowboarding, you can still have a load of fun at Wintergreen Ski Resort. Our Wintergreen Rentals are quite affordable for small families and couples that are looking to stay right near the resort, but save money on lodging. We are 3 miles from Wintergreen Resort, our Wintergreen Rentals are fully equipped for your stay.
Lift tickets are available in four- and eight-hour segments from the time of purchase. Call Wintergreen Resort at 434-325-2200 to buy lift tickets. Stay at Cabin Creekwood for your accommodations. Great skiing, snowboarding, and tubing, oh my! But that's not all. You can also check out the:
-Terrain Park
-Ice Skating
-Ridgely's Fun Park for Kids and Families
-Our Wintergreen Rentals are just 1½ hours from Richmond and under three from Washington D.C., Wintergreen Resort is your close, easy-to-get-to option for a Blue Ridge Mountain escape full of winter fun.