So I was sitting in the office the other day when it occurred to me that summer is upon us; the kids will be out of school soon and I haven't began making preparations for a fun-filled vacation. I have been so busy trying to meet deadlines, balancing the checkbooks and overseeing homework that I have somewhat neglected to spend some quality with the family. There I was; in dire need of an idea for fun, family time when, I looked over my cubicle at Jess' desk and saw a picture of her and her family standing on a bridge; over what looked like a river. Immediately I dashed to the break room on a mission to find Jess and inquire the exact location the picture was taken. She said it was taken at the Goshen Pass Natural Preserve Area last August, and "that picture" had been sitting on her desk since last year (funny, I just noticed it today). She said they had a wonderful time and I would probably enjoy it too.

The Perfect Day Trip

Well, this might just be the perfect activity to get James (my 12 year old stepson) away from the Xbox, Elizabeth (my 8 year old daughter) to have an adventure outside of her Nancy Drew books and Christian (my fiancé of 3 years), who hasn't taken a day off work since last September; to regain his excitement for the great outdoors that he had when we met five years ago. After bombarding Jess with several questions and gathering a bit of information via the internet, I do believe my family will be ecstatic about a day trip to Goshen Pass, Rockbridge County, VA. I am going to pack the picnic basket (finally put it to use), load up the car and head out bright and early Saturday morning: slowing down when we get to route 39 to absorb the 3.7 miles of impressively beautiful mountain gorge created by the Maury River. According to Willard Scott, TV personnel; it is the "most dramatic river/rock scenery east of the Mississippi."
So Much to See and So Much to Do

So here is the list of things I am going to try to squeeze into our day. First stop, Rockbridge Baths; I can almost hear my children daring each other to see who will walk the farthest on the swinging bridge. Although my heart will be racing as the bridge sways with every step; I plan on walking the entire distance to the other side of the Maury River. When the mission is completed I'm sure the kids and Christian will yell "Awesome!"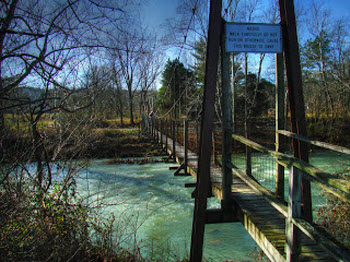 Swinging Bridge Photo: D L Ennis
Next up is the Swimming Hole. James and Elizabeth both love water, so there is no doubt in my mind that after their triumph over the dangerously unpredictable swinging bridge; they are going to jump in. When my fiancé sees the kids having fun, he'll probably get his feet wet and begin to remember he once enjoyed being in places like this. Now that the family has had a taste of what lies ahead; I'll give them a few minutes to get dry and we'll head over to Wilderness Canoe Company for some gear.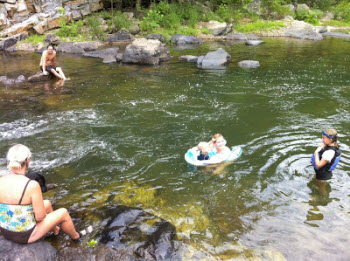 Photo: The Mercurio Family
Time for some Tubing/Canoeing; accessing the river at Glen Maury Park, we will enjoy a relaxing ride down Maury River from Jordan's Point to Buena Vista; listening to the birds chirp, enjoying the wind on our faces and observing the magnificent trees and beautiful flowers along the banks. I'll leave canoeing open as an option; if Christian wants to test his whitewater skills on the six miles trip through Devil's Kitchen and Corner Rapid he should.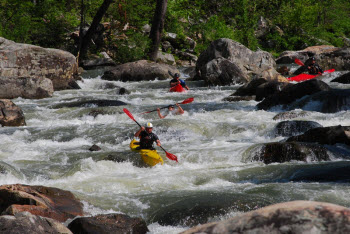 Courtesy of: Wendy Dalton
Time for a Break

By this time we should all be hungry, although the kids won't utter their famous "mom I'm starving" given that they are sidetracked by the loads of fun they will be having. Time to grab a bite, find the closest picnic area; refuel, and have some more fun. Next on the agenda is to do a bit of Fishing: we'll go downstream the James River and make a bet to see who will catch the biggest fish. The kids will have a blast and I will get to try my hand at fishing. I'm sure time will go by quickly as we we'll all be having a fantastic time on our day trip to Goshen Pass.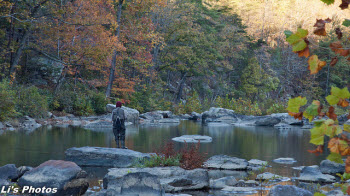 I am certain by the time we get into the car, James and Elizabeth will be planning our next visit. I will be sure to tell you just how much fun we have, next time.
For river access information visit:
http://www.lexingtonvirginia.com/canoeing.htm
check out http://www.dgif.virginia.gov/fishing/waterbodies/display.asp?id=161&section=fishing for fishing opportunities.
http://www.examiner.com/article/swimming-hole-at-goshen-pass-a-day-trip-from-richmond
http://www.dcr.virginia.gov/natural_heritage/natural_area_preserves/goshen.shtml
Article written and submitted by Tayeka W.