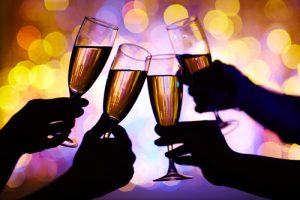 Cabin Creekwood is located in Lyndhurst and is regarded as having the best location for cabins for rent in VA. Convenient to a little bit of everything, you are always sure to find something fun to do in the area. With the Holidays surrounding us and 2016 quickly drawing to a close, it's almost time to pick what to do for the New Years' celebration. If you're tired of being near loads of people, you could stay at Cabin Creekwood and watch the festivities on TV. There are many activities, however, in the areas around Cabin Creekwood that we like to participate in each year.
Seven Arrows Brewing in Waynesboro, just a fifteen minute drive up the road, is holding a New Years Eve bash and Anniversary Celebration. This brewery is a local favorite and has fantastic beers and food. For this event, $35 will give you admission to the party and includes your first two beers and appetizers and an anniversary beer stein to take home. With music from DJ Jason and a photo booth from Epic Sounds Entertainment, this is a party you don't want to miss. For more information on Seven Arrows Brewing, visit www.sevenarrowsbrewing.com
Also throwing a New Years Eve bash 16 minutes down the road from us is Wild Wolf Brewing Company. This celebration is a little more elaborate with a full planned dinner and beer pairing followed by dancing away the last minutes of 2016. The dinner is a full 3 courses, appetizer, main, and dessert. Admission includes everything and a champagne toast at midnight. For more information on the event or to purchase tickets, visit www.wildwolfbeer.com
Our cabins for rent in VA are a great place to come and spend the last weekend of 2016. Call us today to make reservations for your next stay with us here at Cabin Creekwood.