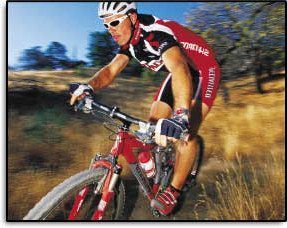 Cabin Creekwood is a popular destination for northern cyclists who wish to get a jump start on spring training. The months of March, April, and even early May provide incredible cycling opportunities. The weather is pleasant, and the terrain provides a wide variety of training options.
Take the Shenandoah Valley Loop, for instance. Cyclists wishing for a long ride can tackle this 93-mile loop that circles south through Raphine, then west into the Central Shenandoah Valley, north through Middlebrook, and east through Stuarts Draft. All the while, you'll be presented with fresh and inspiring views, from mountain streams lush with spring greenery, to beautiful vistas. You never know what awaits around the next turn. This ride has a total elevation gain of 3203 feet.
Or perhaps you'll fancy the Crabtree Falls Loop. This ride takes you south on the Blue Ridge Parkway, east past Crabtree Falls and Tye River, then north and west past Wintergreen Ski Resort. It is 51 miles of pure cycling beauty.
Or how about the Rockfish Valley Crabtree Falls Loop? This 76-mile route starts with riding along the ridge overlooking the Shenandoah Valley to your left, and the Rockfish Valley to your right. It then descends into Rockfish Valley for a nice easy stretch, looking back up to the mountains from which you came. It ascends past Crabtree Falls and Tye River, then returns on the Blue Ridge Parkway.
These are just a few of the tested and approved rides that we've put together for you, in conjunction with one of our regular cycling groups from New England.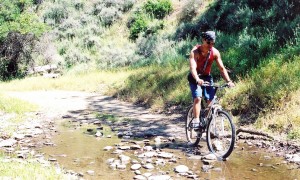 After your ride each day, you'll return to your private mountain cabin for an evening of relaxation. Unwind to a movie from our extensive collection, choose a game to take back to your cabin and play with your friends, cook your evening meal on the provided grill or in the full kitchen, or relax around a crackling campfire.
Cabin Creekwood provides a variety of lodging options, from a rustic, pre-Civil War log cabin that was originally built by a Confederate Soldier, to a very modern mountain home. Sizes range from one to three bedrooms. Each cabin is well equipped with good furniture, comfortable beds, full kitchens and bathrooms, and outdoor living space.
Our friendly and knowledgeable staff will be delighted to help you plan your rides, and to ensure that your stay at Cabin Creekwood is a pleasant one.
To book your cycling vacation, click here and explore your cabin options. When ready, you can reserve your cabin online, or give us a call at 540-943-8552.