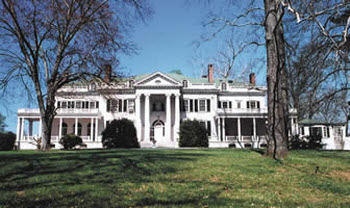 The big white pillars out front are reminiscent of the iconic White House, while the sprawling green lawns tell of high water bills and great wealth. Despite its breathtaking beauty and regal attire, it hasn't always been golden times at the Oak Ridge Estate Mansion—just like any hunk of history, there's the good and the bad, both of which are now on display. Located only 50 minutes away, Oak Ridge Estates holds key artifacts to the history of Virginia, and the United States as a whole. Having housed many notorious families, these breathtaking grounds are now open for tours, leisurely day trips, and private events—allowing the public a chance to enjoy one of America's historical mansions.
Watch History Come to Life
Each room of the main mansion is full of artifacts and interesting memorabilia, guaranteeing that you will never run out of things to look at! There are photos, letters, important documents, and period pieces that will get your imagination churning. Browse through the library, take in the Italian gardens, or simply let your mouth drop down in awe over the delightful breakfast room.
With many famous faces having graced the walls and hallways of this historical home, it's no wonder it has made such a name for itself. Back in 1802, Robert Rivers built the first portion of what is now known as Oak Ridge Estates. A prosperous tobacco farmer, Rivers inherited the house from his own father, building a 9-room home, which would later be inherited by his children. After the financial hardships that followed the Civil War, a wealthy merchant and Chairmen to the Confederate House of Representatives, William Porcher Miles, picked up the home. Miles was an important man with a privileged title—among his long list of accomplishments includes the revised design of the Confederate Battle Flag. Despite his professional successes, Miles endured a world of heartache before selling Oak Ridge to art-collector, Thomas Fortune Ryan. Even after Ryan's death, his family kept the home in their name for another 60 years until John Holland picked it up—it is his children who now own and operate the attraction, making sure that it remains a preserved exploration of history.
Equestrian Lovers Unite
For those that have an eye for horses, it's not only famous families that have lived on these grounds; well known horses have lived here on and off as well! The place once housed many show horses and the stable area is currently undergoing even more restorations. It was the current owners who uncovered the equestrian-related background of Oak Ridge. Since then, they have worked hard to bring it back to life. Currently, the Oak Ridge Fox Hunt Club has precedence in the barns. See a number of beautiful horses and enjoy the vast space now dedicated to fox hunts. Horse Racing is another sport held on the grounds; the racetrack constructed by Thomas Fortune Ryan in 1909 has since been revamped. You don't have to be a professional equestrian to horse around, anyone can set up a time to come out and ride the trails atop a horse!
Private Events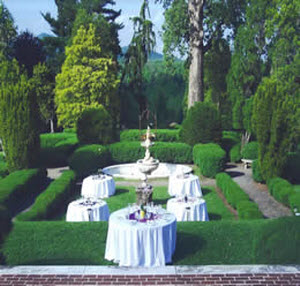 Feel like royalty and throw your next big event in the mansion, or on the grounds of Oak Ridge Estates. You can reserve one of the mansion's dining halls or simply claim a space outside among the luscious landscapes for your own private event– weddings, birthday parties, or receptions of any kind. Regardless of the type of party you throw, the results will be nothing short of splendid. There is even a lovely banquet hall that can hold over 350 of your favorite people; the options are endless. Let your imagination run wild!
Currently undergoing many more renovations, you will find something new every time you visit the Oak Ridge Estates. To check up on the latest additions and to plan your next trip, visit the official webpage here.