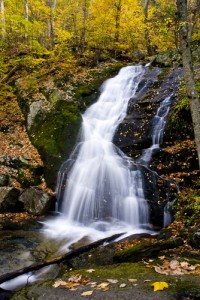 Crabtree Falls Virginia is the highest vertical drop, cascading waterfall located east of the Mississippi River. It is one of the most widely visited areas in Nelson County, and a main outdoor attraction and hike close to the VA Cabin Rentals at Cabin Creekwood. We are close to both Sherando Lake and Crabtree Falls VA.
The Crabtree Falls Trail/Spy Rock Hike is one of the most rewarding hikes. It is just six miles from the Blue Ridge Parkway, Milepost 27. The falls are actually a series of 5 different cascades and a few smaller ones that fall a combined distance of 1,200 feet.
There is an overlook just a few hundred feet from the parking lot area, and guests of all ages love the paved trail. For more adventure, hikers can take the 3 mile Crabtree Falls Trail that leads to 4 other overlooks and each offer spectacular views of the Crabtree Creek Falls and surrounding Tye River Valley. From upper Crabtree Falls VA, the trail follows the creek on to Crabtree Meadows.
Crabtree Meadows is a 250 acre Blue Ridge Parkway recreation stop that offers hiking in one of the most scenic areas. Here the wildflowers bloom each Spring and people like to picnic here. Located at Milepost 339.5, Crabtree Meadows is the last section of the Blue Ridge Mountains, where the route enters the Black Mountain Range and begins to pass through the Great Craggies, where it eventually ends at the Atlantic-Gulf drainage divide.
Click on the links below for more information: