Bad weather got you feeling the blues? No need to worry, in Virginia we know how to combat the cold weather. Come rain or shine, here are some weather resistant activities for everyone to enjoy.
1. Visit the Caverns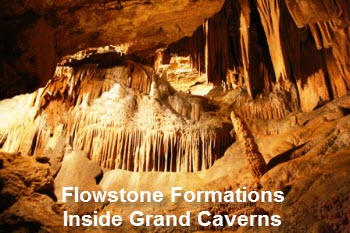 Tucked safely away from bad weather, caverns are the perfect escapade. They keep you sheltered while opening your eyes to a whole new world of beauty.
Grand Caverns
There are a number of caverns to visit throughout Virginia; the one closest to Cabin Creekwood is called Grand Caverns, and is just a 30 minute drive. It is an amazing underground spectacle full of history and scientific intrigue; it is still unknown how many parts of these caverns ever formed. Cool fact: more than 250 Civil War soldiers have marked their signatures on the walls of these caves.
Visit the official Grand Caverns page here.
Luray Caverns
Located one hour and fifteen minutes away sits Virginia's most well known cavern, Luray Caverns. People travel far and wide just to see the amazing rooms dripped in unique formations. Come prepared to be amazed. Not only is the surrounding landscape beautiful—but the innards of these caverns are like nothing you have ever seen before!
Visit the official Luray Caverns site here.
2. Weatherproof Museums
Not all museums offer you shelter from the outdoors, but here are a number of weatherproof museums well worth a visit—even when the weather is foul!
Plumb House Museum
Visit the oldest building in Waynesboro. Erected in 1802 it stands full of history. As a site of conflict during the Civil War, this landmark is used for visually exciting and historically accurate re-enactments today.
Woodrow Wilson Birthplace & Museum
Enjoy a partially guided tour through the Staunton home where Woodrow Wilson, one of America's most prominent historical figures, was born. During bad weather the amazing gardens might be off limits, but there is still so much to see at this well preserved location. They even have a multimedia exhibit to show visitors what it was like fighting in the trenches during World War I.
Monticello
Thomas Jefferson was an interesting man, full of insightful knowledge. Vew the home that once inspired him, where he lived for over 40 years in Charlottesville. Inventions and unique garden collections reminiscent of his life remain on display, along with many other significant pieces of history.
P. Buckley Moss Art Museum in Waynesboro
P. Buckley Moss is known across the globe as "the people's artist." Her unique talents and amazing use of creativity have granted her a vastly dynamic reputation. This museum is dedicated to all of her amazing works of art. Come view for free any day of the week.
3. Indoor Entertainment at Blackfriars
No matter how bad the weather outside is, you'll be warm and cozy within the confines of the Blackfriars theater. This is your chance to see a show performed just as it would have been back when Shakespeare was alive. There are a number of shows scheduled to begin each month. In January enjoy performances of Julius Caesar, The Country Wife, and Henry VII. Any show put on at this venue is top notch–a perfect evening activity for dates, family fun, or both! To plan your trip to Blackfriars check out the official webpage here.
4. Eating is Always in Season
No matter what the weather is like, one still must eat! Here are two diverse options to check out.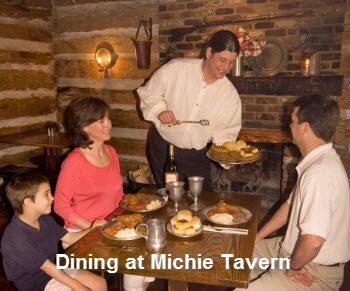 Michie Tavern
Located in Charlottesville, Michie Tavern allows guests to enjoy the atmosphere of the past, with waiters dressed up in 18th century garb. Everything, including the food, is reminiscent of the past. Get ready for a feast! You'll probably want to treat this as your main meal of the day.
Mill Street Grill
For a more traditional eating environment, check out Mill Street Grill located in Staunton. Select from the finest cuts of meats, alone or adorned in sauces with spaghetti. If meat is not your thing, there are a number of vegetarian and vegan options to choose from as well. Mill Street Grill is especially well known for their ribs.
5. Covered Shopping
Rain or shine, shopping is always fun! While most Farmer Markets seem out of reality when the weather gets nasty, Dayton Farmers Market, located in the Shenandoah Valley, provides a vast array of quaint farmers market options, all under the cover of a secure roof! Another option is the Shenandoah Heritage Farmers Market. At both markets, you'll find everything from blueberry pies to wooden lawn furniture to old-fashion toys, all awaiting your purchase!  In addition, culinary delights will tickle your taste buds and satisfy your hunger.
After you're full you'll likely want a good book to cuddle up with. That's where the Green Valley Book Fair will come in handy! Enjoy a selection of books, all at discounted deals. Meanwhile you'll be staying out of the cold! Also, I must mention—if you're into antiques there's no better place than Virginia to go antiquing. There is a huge assortment of antique shops, including the Factory Antique Mall in Verona, which is a 75,000 square foot spread of antique dealers, each with their own unique collection of treasures.