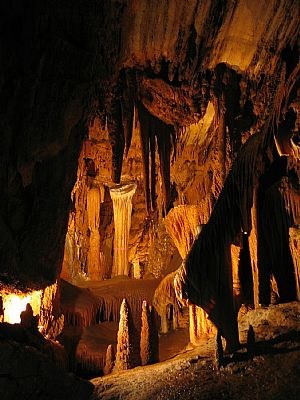 The wonders of nature have a way of giving you a fresh perspective on life. In the town of Grottoes, just a 30 minute drive north of Cabin Creekwood, you can experience a National Natural Landmark with wonderful works of nature that will inspire you. Grand Caverns is America's oldest continuously open show cave, and definitely lives up to its name. After touring the cave, your family can spend the day enjoying the park's other amenities. With a mini-golf course, swimming pool, picnic area and scenic hiking trails there are enough activities to enjoy a full day at the Grand Caverns Park.
A Natural Wonder
Scottish poet, James Thompson describes how his inspiration comes from nature, in his masterpiece The Seasons:
I know no subject more elevating, more amazing,
more ready to the poetical enthusiasm, the
philosophical reflection, and the moral sentiment
than the works of nature. Where can we meet
such variety, such beauty, such magnificence?
Thompson describes what we all feel when we are in the presence of natural wonders. When you tour Grand Caverns you are humbled, not only by the magnitude of the rock formations, but also by the realization that you are walking the same path that hundreds of thousands of people have walked for over two hundred years and having the very same feelings of awe and wonder.
The cave remains at a constant 54 degrees year round. Grand Caverns provides natural shelter from the elements, being both a place of warmth in the deep winter and a comfortable, cool relief during hot summers.
A Rich History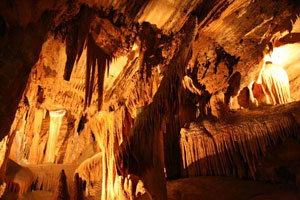 Grand Caverns was originally named Weyer's Cave, after Bernard Weyer who made the discovery in 1804. Weyer was a young trapper who discovered the cave while looking for his missing trap. After exploring the cave for two years, Weyer opened the cave for tours in 1806. During the Civil War, both Union and Confederate soldiers visited the caverns and left their signatures along the cave walls. One of the spotlighted signatures is that of Capt. William W. Miles of the 14th Pennsylvania Cavalry. Miles' signature is dated September 26, 1864, which would have been during the Union Army's campaign in the Shenandoah Valley directed by Gen. Philip H. Sheridan. At another point in the Shenandoah Valley Campaign, when the Confederate Army was camped at nearby Port Republic, Gen. Thomas "Stonewall" Jackson allowed his troops to visit the cave. When asked if he was going to visit the cave, Gen. Jackson is reported to have answered, "I fear I shall be underground soon enough, and I have no desire to speed the process."
Cavern Folklore
There is a legend that occurs a hundred years before Weyer's discovery, which tells of a young girl who was stolen away from her family's homestead by the son of an Indian Chief. The Indian intended the girl he called "white dove" to be his bride. Legend says that a deranged woman who lived in the forest and was thought to be a witch, told the kidnapped girl's family that she was taken to an underground palace where the "walls were silver and the floor was made of pearls". The witch struck a deal to take a horse as payment for bringing the girl back to her parents. When the girl was returned, she was ill. She told of being held at a "marble palace with moonlight shining through the ceiling", it was thought she was delirious from the fever.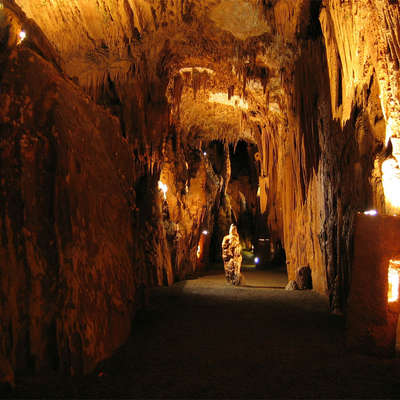 Some truth is given to the legend in a similar account by Mary Elizabeth McDowell Greenlee. Mary Greenlee was a member of the Scots-Irish McDowell family that settled the Shenandoah Valley in the 1700's. A woman too intelligent for her time, Greenlee was thought to be a witch. She was asked by the Lewis family to use her "powers" to recover their daughter Alice, who had been stolen away by her Indian boyfriend. Greenlee was on good terms with the natives and agreed to help negotiate the return of their daughter, who the Indian called "white dove". Greenlee was provided a horse by the Lewis family, to carry their daughter. As repayment Greenlee asked to keep the horse.
Rooms and rock formations in the Caverns are named according to what they look like, such as a stalagmite named "George Washington's Ghost" and a room prestigiously named, "The Grand Ballroom". One area of the Grand Caverns named "Dante's Inferno", was said to be haunted. It is more likely that early visitors were being scared away from an area that was off limits.
Fun For The Family
The whole family will love their visit to the caverns. Whether your family has a history buff, scientist, nature lover or someone who likes to be physically active, there is something for everyone at Grand Caverns Park. Remember to bring swimsuits, sweaters and sneakers and you will be ready for everything the park has to offer.
Grand Caverns Park Information
Hours of operation: November 1st to March 31st – 10:00am to 4:00pm, April 1st to October 31st – 9:00am to 5:00pm. Park is closed on Thanksgiving, Christmas and New Year's Day.
Tour admission is $18.00 for adults, $11.00 for kids age 6-12, Kids under 5 are free. Discounts available for seniors, AAA members, military, and public servants. Group rates available.
Pool fee is $4.00 a day for everyone age 3 and up. Pool hours vary by day.
Inquire at gift shop for fees associated with mini-golf.
References and Links to More Information
http://en.wikipedia.org/wiki/Grand_Caverns
http://www.worthpoint.com/worthopedia/1815-newspaper-weyers-cave-virginia-72098531
http://leomcdowell.tripod.com/id28.htm
http://archiver.rootsweb.ancestry.com/th/read/CRAWFORD/2000-07/0964990336
http://www.shenandoahatwar.org/Visit-the-Valley/Plan-Your-Trip/Places-to-See/Grand-Caverns
http://derdriu.hubpages.com/hub/Grand-Caverns-of-Grottoes-in-Virginia