Nothing helps usher the summer transition into fall like a good county fair. It is always fun to see the exhibitions of farmers, gardeners, and crafters that are able to show the fruits of their long summer labor, by entering livestock and crops, and artwork into competition. There are two nearby county fairs that will be running in August. The Augusta County Fair will open at Expoland on August 7th. The 2012 Fair, as we know it today, will be in it's 18th year. Further north, the Rockingham County Fair is scheduled to run from August 13th-18th, another fair that will also be a fun event for the entire family. The Rockingham County Fair has a strong attendance as it is the older of the two fairs. The Rockingham County Fair has been in association since 1948. The first fairs were held at different locations around the county until 1980 when it settled at its current location off of US-11.
The Rockingham County Fair is filled not only with the expected midway, fair-foods and blue ribbon winners, but also with arena events and grandstand shows. General admission to the Rockingham county fair is $5.00 for adults and $2.00 for children 7-12, kids aged 6 and under are free. There are special reduced prices on certain days, check the Rockingham County Fair website for specific dates and prices. Arena and grandstand event prices vary from event to event check the Rockingham County Fair website for event schedule and prices. Tickets for midway rides are available online, as well as armbands for an all day ride pass.
Below is the Pepsi Grandstand events and artists scheduled to appear, check website for time and prices.
Mon. Aug. 13 – Motocross
Tue. Aug. 14 – Bullriding
Wed. Aug. 15- Luke Bryan
Thu. Aug. 16- Michael W. Smith
Fri. Aug. 17- Demolition Derby
Sat. Aug. 18- Tractor Pull
Below is the schedule of the Showcase Tent events.
Mon. Aug. 13- WSIG Bluegrass Concert
Tue. Aug. 14 and Wed. Aug. 15- Hypnotist Mike Bishop's Comedy Hypnosis Show
Thu. Aug.16- Everyday People
Fri. Aug. 17- L'Angelus Band
Sat. Aug.18- Wilson Fairchild
Below is the livestock event schedule, check website for specific times.
Mon. Aug.13- 4-H & FFA Market Hog Show
Tue. Aug. 14- Open and Junior Dairy Show, 4-H & FFA Market Lamb Show
Wed. Aug.15- 4-H & FFA Steer Show, Open and Junior Sheep Show, Market Goat Show
Thu. Aug. 16- Open and Junior Beef & Commercial Heifer Show, Open Goat Show.
Fri. Aug. 17- 4-H & FFA Steer, Hog, Lamb & Goat Sales
Sat. Aug. 18- Virginia Junior Sheep Breeders Association Show, Replacement Heifer Auction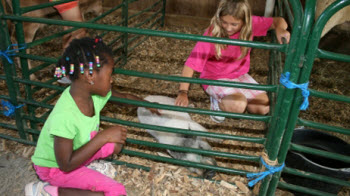 There are also pre-fair events scheduled to kick-start the festivity. On August 4th the Rockingham beauty pageant occurred. Winners in age groups ranging from infant girls to married ladies will be crowned to reign from the 2012 fair until the following year's pageant. On Saturday Aug.11th the Rockingham 4-H will conduct a 5K run/walk. On Sunday Aug. 12th a gospel music concert will be held at the Grandstand by The Deanes, a gospel group from Stanardsville Virginia.
Soon the school buses will roll out into the streets and kids will shuffle along in their new sneakers and lunchboxes, the summer will seem long gone by Labor Day and kids will forget about their summer vacation. The Rockingham County Fair is a week of family fun that rounds out the summer and serves as the final family event before kids go back to school. Remember to bring the camera and capture all of the smiling faces so that the 2012 photo album will have plenty of memories of your Rockingham County Fair summer tradition.