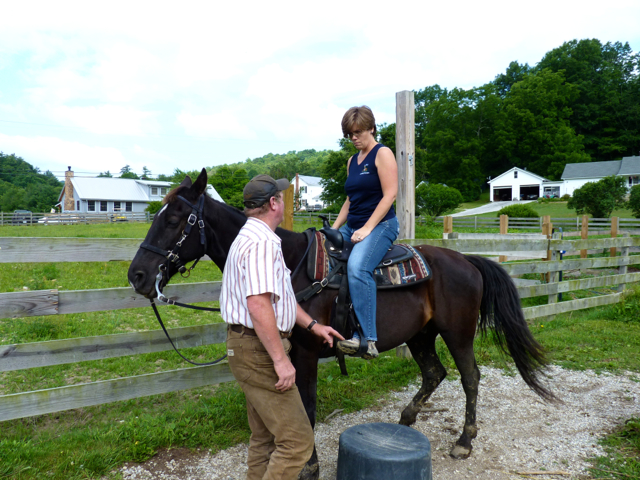 Guests at Cabin Creekwood frequently ask about horseback riding in Virginia. One option that we've referred yet had never experienced for ourselves is Appalachian Horse Adventures. Well that all changed this week. The owner, Kenton Dull, has been after us to come and experience it for ourselves, so we could know firsthand what we're sending our guests to. And what an experience it was! We were even allowed to run the horses!
We met Kenton at the Montebello Country Store, near Crabtree Falls. From there, we walked behind the store to the riding stables, and were introduced to our trusty steeds. Deb was seated on a black Tennessee Walking Horse by the name of Clue, and Stan found himself riding a Tennessee Walker called Rooster, who is also a registered racking horse. Although Kenton had time for a four-hour ride, we did not. So we agreed upon two hours on horseback (more on that later).
What a great experience! We now can confidently recommend Kenton and his horses for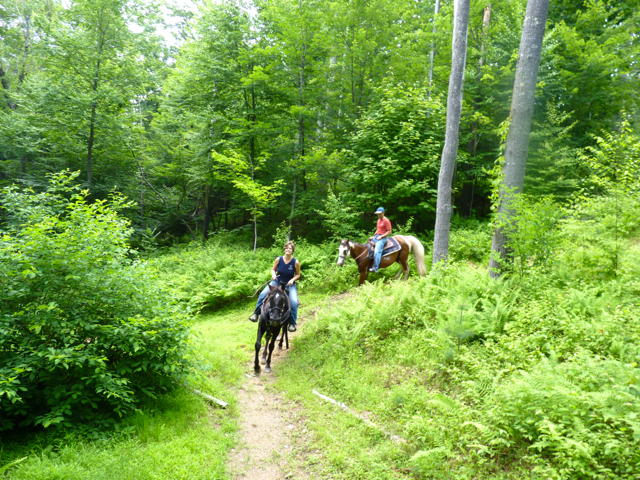 any guest wanting an adventurous trail ride. We left the stables and immediately headed up one of the many horseback riding trails that Kenton has access to on acres upon acres of private land. The terrain was fairly rugged, up and down steep hills and through heavily forested areas. We forded a creek several times, and appreciated the tremendous variety of undergrowth, including a wide expanse of ferns. Periodically we found ourselves exiting the woods to take in the amazing vistas.
It was obvious that Kenton is very passionate about his horses and his riders. He paid close attention to ensure that we were safe, but once he realized we were capable of handling more adventure, he picked up the pace quite a bit. Several times our horses were even allowed to run! I've never been on a trail ride that allowed more than a walk, so this was an awesome experience. Kenton explained later that he assesses riders' abilities during the first part of the ride, to see what they are able to handle throughout the remainder. And then adapts the ride accordingly.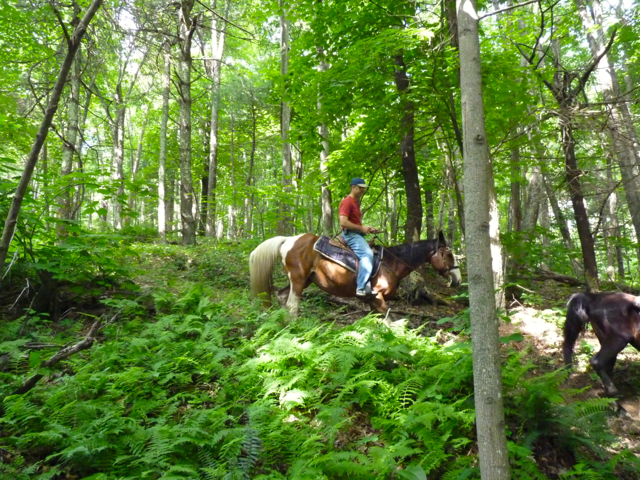 Kenton trains his own horses so they are properly prepared for novice riders. In addition, Kenton personally leads about 95% of his trail rides, racking up an impressive number of miles in the saddle each and every week.
As mentioned earlier, we opted for a two hour ride. This proved to be plenty for Deb and I, since we don't ride on a regular basis. The soreness we experienced over the next few days made us glad we didn't have four hours available! One hour would have seemed short, but any more than two and we might have had trouble walking the next couple of days!
I highly recommend Kenton Dull and Appalachian Horse Adventures if you have any interest in an adventurous ride through the Blue Ridge Mountains. His expertise, complete command over the horses, and confidence in allowing us to run the horses provided an experience that we will not soon forget.
In fact, we are now looking forward to when we can return and explore more of the horseback riding trails that crisscross the mountains of Nelson County.