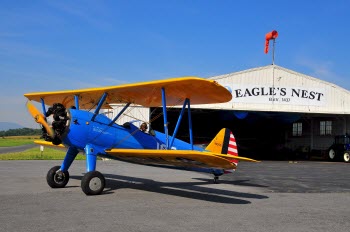 Imagine yourself floating above it all. The trees, clouds, lakes and even mountain tops that typically appear overwhelmingly large now appear miniscule, as if seen from a whole new perspective. At Eagle's Nest airport in Waynesboro this dream can become your reality with a scenic sightseeing tour. Touring any stretch of land from an airplane is fascinating, but the sights taken in on this journey are literally breathtaking. The large and almost foreboding size of the Blue Ridge Mountains keeps anyone from seeing too much of their beauty in any one day, but up in the clouds you'll get to take in a whole lot of land at once. Get a true idea of how the surrounding mountains, lakes, and popular landmarks are distributed around the area, offering you a new perspective and appreciation thanks to the view offered from the clouds.
Sights From the Sky
There are a number of sights you will take in as you fly high above the ground, here are a few to take extra special care to look out for!
Humpback Rock
Humpback Rock is a massive structure jutting out from the Humpback Mountain—people come from all over to stand on this massive structure. Towering 3,098 feet above the ground, creeping towards the rocks' edge makes people feel as if they are floating above the valleys below. This monstrous landmark is a part of the scenic tour, enjoy the view of this amazing force of nature like never before; perhaps it will tempt you to conquer the 'hump,' as it is nicknamed, by foot!
Sherando Lake
Just as thrilling as flying over tall trees and mountain peaks is flying above bodies of water. The Sherando Lake is yet another feature you will have the chance to fly over. A popular place to visit, the lake looks rather different from up above; take care to notice just how conveniently the water sits tucked between forest walls.
Crabtree Falls
The magic of land formation comes alive when viewing Crabtree Falls; this roaring force of water is the largest waterfall east of the Mississippi. To see such a lovely sight from a new angle just might make your heart stop. While water of this force can be deadly to us humans, from your spot in the sky you'll feel quite invincible—yet at the same time, so very small. Crabtree Falls might be the biggest waterfall in the area but it's not the only one, see how many you can spot!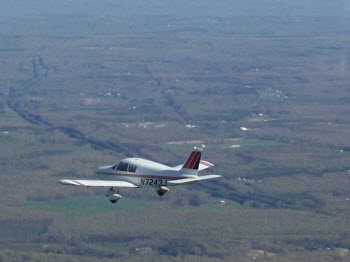 Flying Fun for any Occasion
You don't need a special occasion to take a flight of this caliber, although there's no better way to turn a special day into an unforgettable experience. Birthday parties, anniversaries, and engagements are all great reasons to take to the sky. Not only is a scenic sky tour full of excitement, intriguing vantage points, and fun, but it is also educational. Plus, depending on the time of year you fly, the appearance of the foliage below will look significantly different. Pick your favorite season and feel your heart swoon as you look down at the stunning beauty below.
Get Ready for Take-Off!
Eagle's Nest Airport has a lot to offer, they are a flight school, they have aircraft for sale, they host special events, and they run an aircraft service department; in other words, they are authentic airplane experts with a real understanding of and love for flying. Bring up to 3 people in the sky for a once in a lifetime adventure; tours start off at 30 minutes for only $65! While reservations are suggested, Eagle's Nest is open 8:00am- 5:00pm daily.  Visit their website for more details.