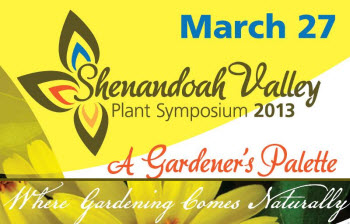 This year Waynesboro will again host the Shenandoah Valley Plant Symposium at the Best Western Inn and Conference Center on March 27, 2013. This event provides garden and horticulture enthusiasts an opportunity to hear and discuss with some of the brightest minds in the country anything and everything related to gardening. There are currently four speakers that will be sharing their ideas and offering their views on specific areas of their expertise, all with the aim of helping you achieve your gardening goals. A quick glance at the topics and speakers and you can't help but be excited to listen, learn, and apply everything in your beautiful garden. This really is a great way to get into spring and shake off winter by getting re-energized and inspired with great ideas from some great minds.
Dan Heims on Garden Gems – New and Exciting Plants
The president of Terra Nova Nurseries and author of The Garden Clerk's Dictionary, Dan Heims will be discussing some the newest perennial, woody, and tropical plants. Always traveling to find the newest perennials for his Terra Nova breeding programs, expect to hear the latest and greatest up-to-date information from his plant shows, nurseries, international adventures, and botanical gardens. In another segment Dan will share how new plants are found and where some of the key countries these discoveries are made; of particular interest is how one gets plants into the U.S. legally, you certainly wouldn't want to get thrown in jail after a joyous trip to Ireland or Australia!
Peter Hatch – Favorite Garden Plants of Thomas Jefferson
As a former, now retired, Director of Gardens and Grounds at Monticello, Thomas Jefferson's historic home, Peter Hatch is an authoritative figure and wealth of knowledge regarding anything on Jefferson's gardens. Thomas Jefferson once wrote, "The greatest service which can be rendered any country is to add a useful plant to its culture" and as Peter can attest, Thomas Jefferson did just that. In this discussion Peter will go through, in detail, Jefferson's favorite fruits, vegetables, trees, shrubs, and flowers while explaining the history and how they were grown and prepared on the historic Monticello grounds. Of course you will also be able to glean some techniques and tips on how to similarly grow and prepare your own garden.
Pam Baggett – Cultivating Your Inner Garden Artist
Previously the owner of Singing Springs Nursery in Cedar Grove, NC, a nationally-recognized mail-order nursery specializing in tender and hardy tropical plants, Pam Baggett brings an artist's eye to the garden, seeing the garden as a canvas. Her discussion will entail sharpening your observation skills so you can bring out and utilize even the finest of details in the garden. Paying attention to colors and textures, the discussion will study several paintings that reveal design patterns that could be used in your very own garden. Also, many people notice the large, beautiful designs at many botanical gardens and historical sites, Pam will go over how to achieve the desired look you crave in your own beautiful home garden by creating a beautiful garden at the proper scale for you. Lastly, the discussion will focus on the art, the creative side, and what it takes to express your creativity in the purest, self-expressed way that allows your garden to be a reflection of you or what you desire.
Bryce Lane – Super Shrubs
A perennially popular and award-winning teacher at NC State University as well as host of the Emmy Award-winning show "In the Garden with Bryce Lane", Bryce brings an infectious passion to the study of horticultural science. Trees and perennials get all the attention in terms of landscaping design but what about the shrubs? Shrubs provide the accent, the subtle touches of color, texture, and function within any garden. How and what you choose is extremely important and Bryce will guide you through selecting native and naturalized exotic shrubs in addition to discussing the best shrubs for a landscape garden and how they complement other plants.
Without a doubt, this year's plant symposium will feature an exciting and diverse lineup of speakers that will educate and inspire you to view your garden just a little bit differently. For more information visit the symposium's website.