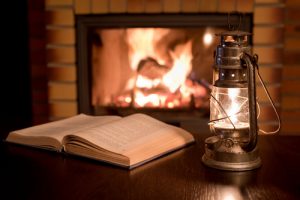 Everyone deserves a break now and then. The world is cluttered and full of distractions. At Cabin Creekwood, you can find that peace and serenity you need. Located in Lyndhurst, Virginia, our cabins guarantee you the feel of Sherando Lake camping but with all the amenities. Detox from all the events of day-to-day life with a hike, go fishing at Sherando Lake, or tie up and hammock and escape into one of these highly recommended books.
If you are a thrill seeker or just a history buff, one recommended book we found we liked is "Devil in the White City: Murder, Magic and Madness at the Fair That Changed America" by Erik Larson. This book is a captivating read, telling the story of two men. Daniel H. Burnham was responsible for the fair's construction and H.H. Holmes was the serial killer that haunted the fairs beautiful, yet mysterious hotel. An attention-holding page turner, this book is rated 3.98 on Goodreads.com and winner of numerous awards, including the ALA Outstanding Books for the College Bound.
More of a witty, yet still gripping novel is "Big Little Lies" by Liane Moriarty. This book weaves the tales of three Australian suburban wives, all while a "who-done-it" mystery hangs in the air. Filled with brilliant takes on ex-husbands, mother and daughters, and of course, schoolyard scandal, this book is based on the little lies that could get these ladies in big trouble. Rated a 4.17 on Good Reads, we highly recommend this weekend worthy book.
Bring these new reads or your favorite classic to come stay with us at Cabin Creekwood. With so many relaxing adventures to get into, Sherando Lake camping in style never looked better. Don't let this opportunity slip – call us today to make your reservation for the relaxing vacation of your dreams.