Due to changes in Forest Service regulations and the enforcement of those regulations, Cabin Creekwood is no longer able to provide canoe and kayak rentals for use on Sherando Lake.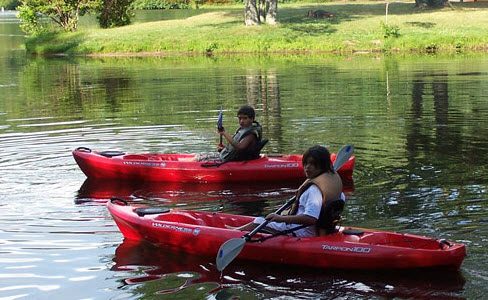 Sherando Lake is a great place to relax and enjoy the outdoors. It is known locally as "the jewel of the Blue Ridge," and when taking in the beautiful scenery, it is easy to see why. The lake itself is a picture of serenity, tucked away in between the mountains.
Although the beauty of the area can be enjoyed on foot, there's nothing quite like getting on the water and experiencing the solitude that only a kayak or canoe can provide. Most folks seem to be more comfortable with a canoe, but I prefer the closeness to the water that can only be found in a kayak.
Canoe and Kayak rentals are available at Cabin Creekwood for cabin guests, day visitors, and overnight campers. We have one 17′ coleman canoe that seats four people. We also have three kayaks. One is a tandem (two-person), the other two are singles. All of our kayaks are the Wilderness Systems sit-on-top kayaks, which are known for their stability and ease of use. They are so stable, a person would be more likely to fall out than to flip one over.
Rentals are available for 2 hours, a half day, and a full day. Paddles and personal flotation devices are included with all rentals, and delivery to the lake is available.
To reserve your canoe or kayak, call us toll free at 888-942-2246.