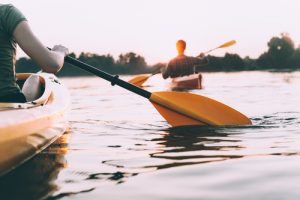 Due to changes in Forest Service regulations, and the enforcement of those regulations, Cabin Creekwood is no longer able to provide canoe and kayak rentals for Sherando Lake. We apologize for any inconvenience.
In the heart of the Shenandoah Valley, our cabins at Cabin Creekwood boast peace and relaxation to compliment the vacation of your dreams. Surrounded by nature and just far enough away from the rest of the world, you can feel at ease knowing that the stressors of life seldom will find you here. Cabin Creekwood is just a mile away from Sherando Lake. If you're looking for a nice hike or a dip in the lake near the Sherando Lake Recreation Area, we're practically walking distance away.
The Sherando Lake Recreation Area has many amenities for your trip to the lake. Upper Sherando lake is the smaller lake with about 7 acres. Fishing enthusiasts will want to visit Upper Sherando as this lake is designated for fishing only. For those who love to kayak, row, or swim, Lower Sherando will be your destination. Lower Sherando lake features 25 acres of row-able, swim-able, fish-able waters.
Around Sherando Lake, there are also numerous hiking trails for those who love to adventure on land. The Blue Loop trail circles Sherando Lake in 2.5 miles, providing views of both the lake and the mountains. The longer, more adventurous Torry Ridge Trail crosses over the Blue Ridge Parkway and has numerous branching trails for side adventures that feature waterfalls, mountain overlooks, and the Sherando Lake dam.
Our visitors to Cabin Creekwood often tell us of the adventures they get into near Sherando Lake. We also offer kayaks to take with you to the lake in case you don't have your own. Horseback riding is also a popular pass-time. The possibilities are endless when you visit our cabins in nature, whether you're looking for a physical challenge or just a day in the sand and sun. Call us at Cabin Creekwood to book your vacation in the wilderness today!