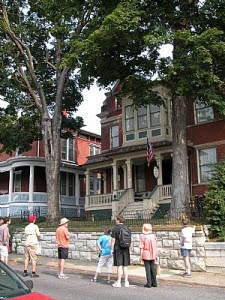 Join local tour guides on the free historic walking tour of the city of Staunton, VA, as they share their knowledge of the unique and many-faceted history of the city. Founded in 1732 by Scots-Irish settler John Lewis, Staunton become a bustling Victorian town and a thriving economic center.
You'll stroll through several of the six historic districts, and learn all kinds of interesting information, such as, how the districts got their names, and who the streets were named for.
You'll learn about the vast influence of architect T.J. Collins, as his firm T.J. Collins and Son designed and remodeled over 200 buildings in Staunton between 1891 and 1911. You'll see the many varied styles incorporated by Mr. Collins, as you stroll past and discuss the Augusta County Courthouse, The R.R. Smith Center for History and Art, the Switzer Building, the National Bank Building, and White Star Mills.
The free walking historic tour has been offered for over 25 years by the Historic Staunton Foundation, each Saturday, rain or shine at 10:00am, May through October. Tours are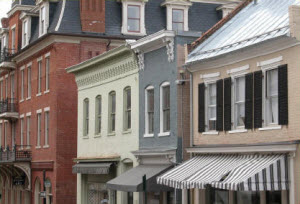 sponsored by Blue Mountain Coffees at 12 Byers Street.
Reservations are not required–just show up on the Emily Smith House porch, at the Woodrow Wilson Presidential Library and Museum, 24 N. Coalter Street a few minutes before 10:00. Make sure to wear comfortable shoes and be prepared to walk and ask questions.