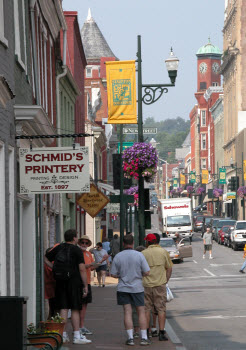 They say that the best things in life are not free, but in reality the very best things are often free. Such is the case with the free walking tours offered in downtown Staunton every Saturday. For no cost to you, enjoy a volunteer guide who will take you along a tour of the very best and most historically noteworthy sites in Downtown Staunton and the surrounding neighborhoods. These walking tours are nothing new; they are a long-running tradition in Staunton spanning 25 years. There is a world of history embedded throughout Staunton. Neighborhoods known throughout the Nation for their historic quality are not to be missed and surely won't be if you take advantage of this free tour!
Historical Staunton
In 1732 a settler by the name John Lewis founded Staunton. Since this time there have been many historical moments and time periods lived out on this land, making it an important historical site. The historical significance of everything from the artifacts left behind to the unique architecture makes it very important that these landmarks remain preserved, which is why districts have been created to further the pursuit of their survival. It's difficult to see most of these sites on your own, but with a tour guide telling you exactly where to look and venture, you are getting the chance to see all that Staunton's Historic District has to offer.
Historic Sites Along the Way
With so many stops along the way, it's nice to know what to expect before embarking on the adventure. Here are some of the destinations you will visit on the walking tour.
Gospel Hill is a noted historic district that is on the walk-by list, offering a look at a number of houses, ranging in both size and legacy— including some built as early as 1840. This section of town is known as a fair representation of the years that Staunton was booming, including 7 addresses listed on the National Register of Historic Places. See how Staunton morphed from a frontier village to a booming industrial community, while also taking in the unique architecture that tells a world of stories.
Also on the tour is the Beverly District, which is an area of bustling city blocks that represent a large change in economic opportunity Virginia experienced after the train station and railroads were instituted.
Also largely affected by these railroads was the Wharf Area Historic District, which is also yours to tour. Enjoy getting a good look at a warehouse and business district built during the turn-of-the-century.
The Stuart Addition Historic District is also on the itinerary, offering a look at a town completed before the start of the Civil War. Here you will find some of the oldest buildings around. Not only can you see how homes were built long ago but you can also get a feel for the varied culture that once presided here, with 3 historic black churches, and a 1915 elementary school once reserved for black students.
What to Expect
Each tour lasts around 2 hours, which includes a lot of walking! Come prepared with comfy shoes and drinking water. Another great idea is to dress in layers—the further you walk, the warmer you will get! You don't have to call ahead or make reservations either, just show up ready to learn, tour, and walk, and you are sure to have some of the best free fun around!
For all the details, visit the official webpage here.