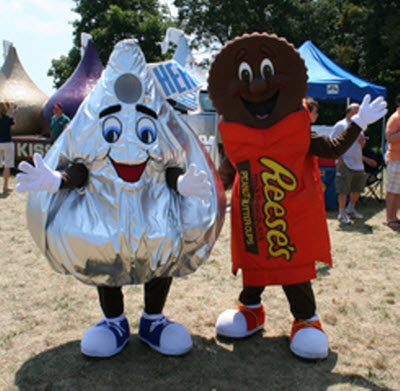 Hello my name is Stan and I'm a Sweetaholic. In case you are wondering, it simply means I have an addiction: I just can't get enough sweets and I love it. So it shouldn't come as any surprise that I am writing about the Stuarts Draft Sweet Dreams Festival. McKee Food Corporation, manufacturers of Little Debbie snack cakes, and Hershey Chocolate of Virginia, are situated in Stuarts Draft, making it literally the "sweetest place to live" in Virginia and the ideal location for the Sweet Dreams event. I am so looking forward to this event and I'm extending an invitation to all you chocoholics, anyone who enjoys fun games/contests (participating or just observing), parents and guardians, bring the kids out to see life-size characters of their most tasty candy.
So Much More than Sweets
Yes the festival is called "Sweet Dreams," but it offers so much more. So don't worry about your child/children becoming "hyped up" on sweets or getting a tummy ache, and you going home hungry because you couldn't have anything substantial to eat. There will be dozens of food selections, including but not limited to; fresh squeezed lemonade, hot dogs, pizza, smoothies, hoagies, wraps and a variety of barbeque items. The festival is scheduled for Saturday, July 27, 2013 at the Stuarts Draft Park. Unlike most other festivals that see activities "kicking off" at 9am, Sweet Dreams will commence at 6:30 am. If you're thinking, "WOW! That's early," I would agree under other circumstances. Except that the day will begin with a Ruritans' sponsored pancake breakfast. They are really trying to make it easy for us; just get up, get dressed, get the family out of the house and off to the Sweet Dreams Festival where breakfast awaits.  After breakfast, the rest of the day's activities do begin at 9am.
Fun Activities for Everyone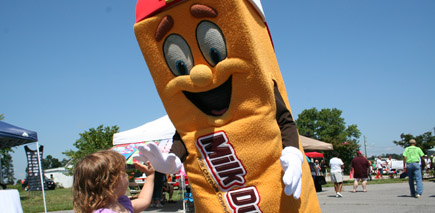 There is a reason the Sweet Dreams Festival was awarded the title of Best New Special Event from the National Association of Counties and Virginia Parks and Recreation Society a few years ago; the event is well organized and there is an activity for everyone, regardless of age or physical activity level.
Children Activities – your child(ren) will have a blast. There will be a magic show and a puppet show at various times throughout the day; reviews from previous years say, the shows were captivating and had the children begging for more. The Little Debbie look-alike contest is for children 12 years and under so if you have a child or know anyone who looks like Little Debbie, invite them to enter; the kids will enjoy getting all dressed up in their Little Debbie costumes. There will also be a rock climbing wall for your little daredevils, and craft centers where your children can explore their creativity.
Adult Activities – there are several activities to choose from in this category. Participate in a 5k run/walk or show support to friends/family.  Or you can play/cheer for your favorite softball team. If you enjoy baking, you could be a part of the bake off, or if you much prefer the end product you should consider entering the pie eating contest. There will also be a horseshoe and a corn hole toss tournament.
Family Activities – families are the foundation of the community, Sweet Dreams have planned activities with that in mind. Enjoy a game of laser tag, or let the children help you mark your cards while playing a free game of bingo. The entire family could have massive fun participating in the bubble gum blowing contest (I bet the kids would remember that forever); the horseshoe tournament is open to all ages, so the family could participate in that as well. There will be live performances.  Take a break from walking around and enjoy some music with the family.
I am aware that I haven't listed all of the activities; I merely gave you a bit of information to whet your appetite. The Sweet Dreams Festival is a great opportunity to have a fun-filled day outside with family and friends and see what's new/happening in our local community/county. If you're in or around the Stuarts Draft area, come and have a great time. If you've never been to a Sweet Dreams Festival, save the date; July 27th 2013 and experience for yourself what all the fuss is about.
For more information on the Sweet Dreams festival visit: http://www.sweetdreamsday.com.
Check this link for a comprehensive schedule of activities.