Throughout history, many cultures worldwide have made walking a significant rite of passage or religious custom. For the Aboriginal people it was the "walkabout", for the Native Americans it was the "vision quest" or "spirit walk". When the crusades made it difficult to travel to Jerusalem, churches had labyrinths built for Christians in the middle-ages to walk as a way to ceremoniously keep their pilgrimage vows. The benefit gained from the ritual walk was enlightenment from silent inward reflection.
It should come as no surprise that today, hiking has become a way for people to get away, separate from the daily grind, clear their mind, think things over and get in touch with the beauty in nature. Like the ritual walkers from ancient cultures, hikers today find peace and self discovery whether they are "day-hikers" or long range "thru-hikers". One hiker who obtained inner peace and became an inspiration for American hikers is Earl Shaffer, the first thru-hiker of the Appalachian Trail. Shaffer returned from World War II, and walked the Appalachian trail from Georgia to Maine in 1948 as a way of dealing with the trauma of his war experience. A modern hiking subculture has grown in the U.S.; it has become a way for people to achieve self-goals and challenge themselves.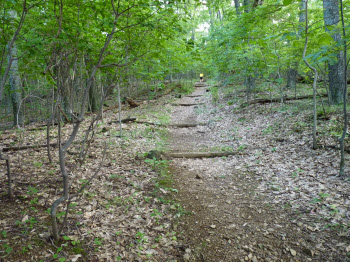 For others, hiking has become a way to enjoy a day outdoors and get exercise. The peace and quiet of nature is not the only benefit of hiking, a brisk walk over uneven terrain is also a great health benefit. Hiking becomes an even more inviting form of exercise when you consider that there is no expert skill needed to participate and cost is minimal, if you can walk and follow a trail- you can hike! For day hiking there is very little equipment needed; a pair of shoes appropriate for the terrain, a backpack with water and snacks, or a lunch depending on how long you plan to hike. Thru-hikers commit to weeks sometimes months for their hike, so they will require more gear for camping.
In Virginia the Blue Ridge Mountains have many trails that lead to some of the most beautiful views in North America, and hiking is a great way to experience these Virginia mountains. The Appalachian Trail is one of the most famous hiking trails. 550 miles of the trail runs along the Virginia Blue Ridge. The Appalachian Trail, or AT, runs parallel to a section of the Blue Ridge Parkway that is only two miles from Cabin Creekwood. There are other trails near Cabin Creekwood that promise beautiful walks leading to scenic overlooks and some lead to breathtaking waterfalls. Crabtree Falls and Humpback Rocks are two trails near Cabin Creekwood that won't disappoint.
Safety and accident prevention should always be paramount. Below are some points to remember when hiking nearby Cabin Creekwood for both new and experienced hikers.
Tips and Points to Remember
Tell someone that you are going on a hike, which trail you will take and when you plan to be back.
Don't forget to apply insect repellent before your hike.
Don't forget water and a small snack for longer hikes.
Bring your cell phone, you don't have to turn it on if you want to get away from civilization, but it may come in handy.
Even if it is summer, do remember to bring a sweatshirt or a flannel, the air can get quite cool in the mountains.
Wear comfortable shoes and good socks to avoid blisters.
When you return from your hike, remember to check for ticks.
For More information check out the links below: