Winter brings in the cold, the rain, and the snow… it brings along snow shoveling and Frosty the snowman, but winter at its best also brings a whole new team of sports for everyone to participate in! This winter, take advantage of the thick powdery snow blanketing the hills of Wintergreen Resort, located a conveniently short distance away from Cabin Creekwood (2 ½-5 miles, depending on the location of your cabin). Wintergreen offers a wide variety of sports so that no one can go without finding a suitable activity. Here are 5 of the most fabulous, and varied, snow sports Wintergreen offers.
Skiing and Boarding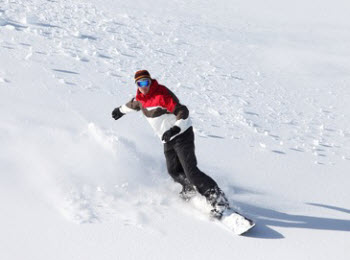 The two most notoriously cited winter sports are by far skiing and snowboarding; arguably very different sports, both are tackled in a unique way at Wintergreen.
For those attracted to skiing, there are a number of slopes available for all skill levels, from beginner to expert. You might want to check out the Lower Cliffhanger, but unless you're an expert skier, this trail is for nothing more than distant gawking, as it is the most difficult and dangerous run open.
If you're more into boarding, there are plenty of options for you to get your snowboard on! There are multiple areas where you can try out the latest tricks, including straight rails, down-kinks, and rainbows. Just as with the ski slopes, there are different areas for experts, intermediates, and beginners.
For either sport, Wintergreen offers multiple lesson programs and packages for all skill levels and goals, even kids as young as 4!
The Tubing Park–Take The Plunge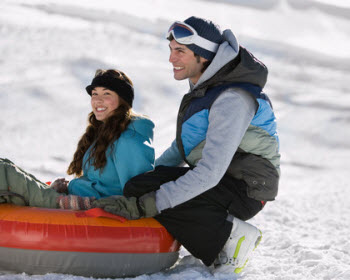 The Plunge, otherwise known as, "The Scream Machine," offers the thrill of flying down the mountain without all of the risks skiing poses, which is part of the reason it has become one of the most popular attractions not only at Wintergreen, but also in the state of Virginia! Due to the tubing park's massive size, it has been named the largest of its kind within the state. Join in on the fun by hopping into a large inner tube, only to fly downhill with your hands up in the air—a big smile on your face. These are not just any hills you will be diving down; some inclines are steep and long enough to get you cruising at speeds around 30 mph!
Once you hit the bottom, the electronic system in place will automatically hitch onto your tube and cart you off to the top again, so you can have non-stop fun without doing anything more than giggling with joy.
Ice Skating Outdoors
Outdoor ice-skating is a blast; with those skates on your feet and that chill in the air, the holiday season will really come to life! Plus, you can quickly improve your skills on ice, something that will give anyone a confidence boost! Wintergreen's outdoor ice rink is 45×90 ft., offering plenty of room for you and your pack to glide freely, side-by-side, or spread out all over. Unlike those shaky frozen ponds one can take the risk and skate on, a huge machine chills Wintergreen's rink so that the ice is always frozen solid.
Ridgely's Fun Park
Small kids (ages 3 and up!) don't have to be a burden at a place like Wintergreen, although the fast paced slopes might at first make it seem so. Wintergreen accommodates young children with an awesome park full of snow-related rides and other age-appropriate attractions, including a tiny hill so that even families with little kids can enjoy the thrill of tubing. If you get lucky, the park's mascot, Ridgely the Bear, will make an appearance for the kids; just remember this park is only open on Holidays and the weekends.
Zip-line Over the Mountains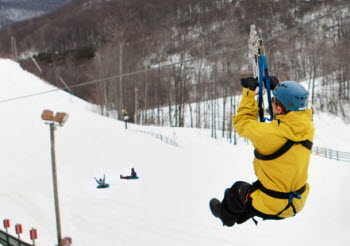 It's common to zip-line across the forest, but Wintergreen offers a new rush, going over layers of snow packed mountains. With around 900 feet of line to zip across, the rush is not short lived—you will literally feel like you can fly! Those that are 8 and older and between 75 and 250 pounds are welcome to experience first-hand how amazing it is to zip-line over America's iconic mountaintops.
These are only 5 of the many winter sports and activities offered at nearby Wintergreen Resort. No matter what pace of thrill you are seeking, you are sure to find something worth your while! For a complete list of ongoing winter sports, check out Wintergreen's official webpage. and follow this link for information on Cabin Creekwood Ski Packages.