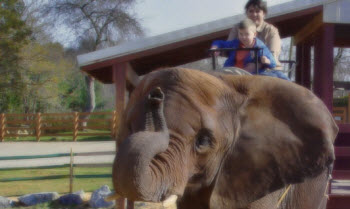 Riding elephants is only part of the reason Natural Bridge Zoo stands out above the rest. Privately owned and funded since opening their doors in 1972, this zoo has a special interest at heart, rare and endangered animals. This intimate animal exhibit offers a glimpse at some of the worlds' most beautiful creatures in hopes that they won't be forgotten. Black Himalayan Bears, Bengal Tigers, Llamas, and regular old Pot Bellied Pigs live alongside a large variety of other amazing animals.
While some may argue zoos are cruel and animals should be free to roam in the wild, in the case of the animals at Natural Bridge—without this sanctuary, they'd likely not be alive. In proof of the quality care they provide, many of these animals have been bred on site for generations.
Only a short drive from Cabin Creekwood, Natural Bridge Zoo offers attractions you will be hard-pressed to find at any other location!
Petting Zoo
Did you ever watch the classic Disney flick, Bambi—as a kid or adult—and wish you could hug that cute little Doe? Well now you can! At Natural Bridge, there's more than just the routine goat to cuddle with. Not only can you socialize with the animals, but you can also purchase feed (it's only about $1) and make the animals really fall in love with you!
See the Rare and Dangerous
For many years the Natural Bridge Zoo has provided a safe-haven for endangered animals from over 6 continents. There's always someone new to see, due to the fact over 100 newborn animals are welcomed each year.
Here are 3 of the special animals you will be lucky enough to witness:
The Cassowary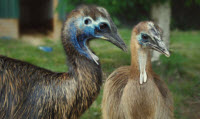 Considered the most dangerous bird in the world, the Cassowary is 130 pounds of talons and feathers! Despite their harsh reputation, don't come frightened—this bird is only associated with one human death.
The Mandrill Baboon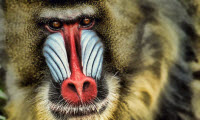 You've likely seen this chimpanzee before; with his brightly colored face that is popular in movies and art. Unfortunately this handsome creature is becoming all the more rare. Come see this endangered species and quickly you will realize it's not just their faces sprayed in blues and reds, their bottoms are alive with color too!
The Himalayan Bear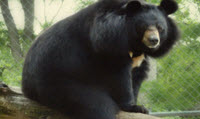 Bears are breathtaking to look at as full-grown adults and absolutely adorable as infants! Depending on the time of year you visit, the bears will be in a variety of age groups, if you come when there are baby bears you will get the chance to watch one being bottle-fed. Having bred this bear for years, this park is responsible for providing many other American zoos with Himalayan Bears. Thanks to a greater demand from the expanding human population, land developments have destroyed the majority of their natural habitat.
Ride a Real African Elephant
Elephants are among the most amazing creatures; they are also a lot like humans—despite their giant size and big long tusks! Elephants are the only other mammals that not only bury their dead, but also return to mourn at the burial spot. In fact, elephants are incredibly loyal and make the best pals. Since most homeowners' associations don't approve having a giant best friend of your own, Natural Bridge gives everyone the chance to not only meet, but also ride, an elephant!
There are few zoos in the United States that offer such a treat, but here elephant rides are a notorious attraction. This once in a lifetime treat only costs $5 on weekends, selecting the right days and times are key to scoring an elephant ride. Weather also plays a role, if it's raining or unbearably hot the elephants do not come out for rides.
Visit the Natural Bridge Zoo official webpage to plan your uniquely intimate experience with these rare and endangered animals!