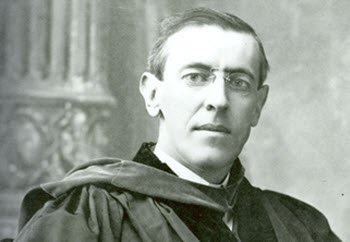 The magnificent state of Virginia was given its name in recognition of England's "Virgin Queen," Queen Elizabeth I. Nicknamed the "Old Dominion" and often referred to as the "birthplace of the nation"; Virginia was the first part of the country to be permanently inhabited by British settlers. Although the state played an integral part in America's revolution and produced internationally recognized individuals such as; Shirley MacLaine (actress), Ella Fitzgerald (singer), Tom Wolfe (author), Booker, T. Washington (educator), and Arthur Ashe (pro-tennis); these are not the sole reasons that Virginia is popular and set apart from the other states. The birthplace of eight American presidents; the Old Dominion holds the record for producing the highest number of presidents throughout the United States to date. In honor of such great achievement the Woodrow Wilson Presidential Library and Museum will be hosting a Summer History Camp, packed with enjoyable educational activities for your children.
Journey into History

During this week long session your child will not be focused on the mountains or beautiful beaches that tourists come here for. Instead, they will embark on an exciting journey into America's history and the life of the eight presidents that came from Virginia. So what can the kids expect? FUN, FUN, FUN and more FUN! There will be experienced and enthusiastic camp leaders to ensure that your kids have the time of their life; that is of course, if both you and they are open to a world of adventure and creative learning. Your children will be anything but bored as they examine over 16,000 years of rich Virginian history. Imaging the look on your child's face as he follows clues and finds remnants of colonial settlements and artifacts of indigenous people of America, adorns herself in wigs significant of the 1700's and re-enacts the revolutionary war. I am certain that your child will be super pumped as she looks forward to visiting the elaborate trenches constructed during World War I, participating in presidential trivia and getting the once in a lifetime opportunity to attend an inaugural ball as they explore the path that each of the eight presidents walked.
Date and Admission

The annual summer camp is in its 17th year: dubbed "Journey into History Camp" Pathways to the Presidency, Virginia's eight Presidents, will run from June 17th through the 21st and again June 24th through June 28th. The Woodrow Wilson Presidential Library and Museum will hosts two week-long sessions in order to accommodate the large number of attendees. Each session will run from 9am to 12noon, Monday through Friday. The admission to the program is $95 per child. This fee includes all craft items, a camp T-shirt to commemorate their experience and snacks for the entire week. If you ask me, this is a good deal, and everyone loves a good deal. For that very low cost, your child will gain an appreciation for history, enjoy a unique learning environment and forge friendships in the process. The suggested age group for this camp is 7 – 10 years however, if you have a child that is a little outside that range he will not be turned away. Registration is open, so go ahead and get your child registered now because slots are filling up fast.
Free Time for Mom and Dad

So, apart from the kids having a wonderful time at camp, you will have three full hours of free time, five consecutive days. Think of all the things you could do. You and your partner finally have some time alone; you could visit some of Virginia's notorious wineries, take a hike or just lay on the beach at Sherando Lake on a beautiful summer's day without worrying about the kids' safety. Mom, you could have a brunch date with the girls, reserve a session at the spa for a manicure, pedicure and a full body massage or simply enjoy some retail therapy. Dad, we haven't forgotten about you. Play a round of golf with the boys, go fishing for an hour or two, or….. maybe, join mom at the spa; dad would enjoy a massage too. I know as you're reading this, a few things are coming to mind that has not been mentioned above.
And of course, if you live some distance away, you could rent a vacation cabin in the Blue Ridge Mountains, and drive your kids a short 20 minutes to the camp each day.
Get your kids registered today–except for them telling you about their fun-filled day over and over and over, and some free time on your hands, what do you have to lose?
For more information and registration visit:
http://www.woodrowwilson.org/education/journey-into-history-camp
For questions or concerns contact the Museum Educator at:
museumeducator@woodrowwilson.org