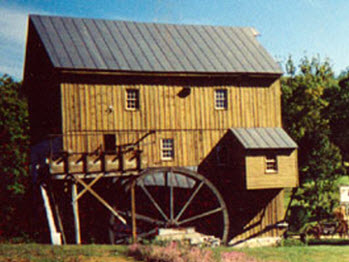 With so many processed options and quick assembly lines instituted to boost profits, many foods no longer taste the same as they once did. Bread, or any flour product, is one of those dramatically changed food groups. The bread that you buy at the grocery store is nothing like what people ate many years ago, back when bread was made in smaller batches, with a lot more love and care. The Wade's Mill is open today to offer people a taste of the past–to show guests what flour-based goods taste like when flour is created using an old-fashioned mill. Not only do you get to taste the differences, but the entire mill is open for your exploration, offering more than one way to learn about the past.
A Mill of History
The grounds, walls, and even skies that shine down on Wade's Mill are full of family history. The property first lured in Captain Joseph Kennedy when the Shenandoah Valley as we know it was just springing to life around 1740-1770. It's anyone's guess whether Mr. Kennedy knew how long he would remain here, but his family held onto and maintained the property for 100 years! At this time, in 1882, James F. Wade came along and continued with the gorgeous plot, he too kept the mill in the family, keeping it in operation for four generations.
The Wonders of Wade Mill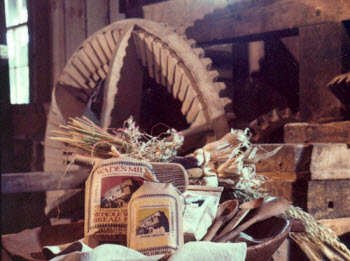 The Wade Mill is a rare site to see, there are only a few others in existence that still make all of their flour using mill stones. A nearby body of water connects to the property, feeding the 21-foot water wheel that sparks the entire operation. While this method of producing flour is no longer efficient for the masses today, it is an earth-friendly and natural method that has luckily been preserved for many years. It is no surprise that this very location rests on the National Register of Historic Places, thanks largely to how similar the inner workings of the mill remain to the days that James Wade operated the place alongside his family.
This entire spread is yours to tour, check out the mill house and the mill itself, along with all of the equipment necessary to make the operation work. The grounds themselves are also a delight. Depending on the time of year you visit, the landscape will vary dramatically. Either way it's beautiful and full of a unique charm.
Delight Your Taste Buds
Of course, the Wade Mill wouldn't be half as exciting if the mill was not in perfect working order. Thankfully it is, allowing everyone a chance to try the most delicious goods. The on-site store has everything from cookware to hams to specialty gifts, but best of all they have their own stone-ground flour and mixes for sale. You have never had a treat quite like this—and considering how rare these mills are, it might be a long time, if ever, before you come across this quality of baking goods again. Purchase some back stock for yourself and store up some presents for others, everyone will enjoy cooking with flour made at the Wade Mill, where since the very beginning of America's history flour has been lovingly produced.
More than just a flour mill, there are a number of special events held on site, including cooking classes, food festivals, guest chefs, and much more! To see what is going on when you plan to be in the area, check out the official website for Wade's Mill.