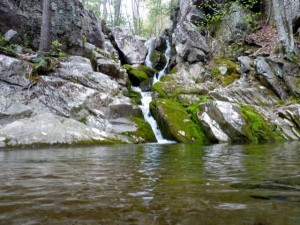 If you are looking for a great family hike, and spot to take smaller children, or people that may not have as much experience hiking, beginner levels, the White Rock Falls trail is a wonderful spot to hike. The trail was formed in 1979 by the Youth Conservation Corps and local area Boy Scout Troops like to use the trail for camping out and other adventure events. The canopy of tree leaves will provide a nice cool pathway for hiking. You'll find mountain rocks and tiny boulders that you'll have to hike over and you'll see great views of the small waterfall, White Rock Falls, that the trail is named for as a nice reward.
The White Rock Falls Hiking Trail in the Sherando Lake area, is 2.5 miles long and has very little elevation gain. It leads through a really beautiful gorge area and on to the waterfalls that feature a great wading pool at the bottom. The name White Rock is said to have came from the quartz rock that is found in the area in abundance. Many of the rocks that you'll pass over will contain quartz and you can visibly see it. The falls are located in Nelson County. Follow Route 56 West to the Blue Ridge Parkway / Slacks Overlook (north of milepost 20). Park at the Slacks Overlook area and the trail starts about 60 yards away on the east side of the Blue Ridge Parkway.
Cabin Creekwood, cabins in Virginia Mountains, are pet friendly cabins located right near Sherando Lake in Lyndhurst, VA. We offer family and budget friendly cabins for rent in VA. They are all located along a beautiful river/stream in the Shenandoah Valley. You can fish, hike, and picnic all around our resort. For the warmer months, we also have an in-ground pool that opens up and is only available to guests of our resort.