Are you ready for the ultimate romantic Virginia getaway to the Shenandoah Valley? Our Sherando Lake cabins provide the ultimate escape for you and that special someone. Surprise your partner with a trip to the local wineries that the valley is known for. The Shenandoah Valley Wine Trail is dotted with some of the country's celebrated wineries and Shenandoah Valley wines have become highly sought after. Many local fine restaurants carry their exceptional products.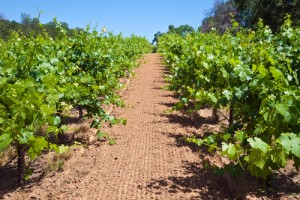 One such winery that is located about a thirty minute drive from our Virginia Mountain cabin rentals is Wintergreen Winery. This winery is a family owned business located in Nelson County that features handcrafted vintage wines from the Monticello wine region. Fall is especially beautiful at Wintergreen Winery when the harvest comes in and the crush begins. The leaves provide a picturesque landscape that is unsurpassed. In fact, the property was once a part of the historic Highview Plantation, which is sometimes called Wintergreen Plantation. You can experience all that Nelson County has to offer while in the area visiting Wintergreen Winery, by checking out the Nelson Scenic Loop, the home itself has deteriorated and is not open for tours, but this loop is a fantastic way to see some gorgeous stops and experience the outdoors.
Wintergreen Winery is housed in a 19th century farm building and it's inviting tasting room is open to visitors. Taste some of the award winning white wines including Black Rock Chardonnay Reserve, Three Ridges White or the Raven's Roost Cabernet Franc if you prefer reds. There is a nice picnic area along the Rockfish River as well on site providing great views of the Blue Ridge Mountains.
Click to book our Virginia Mountain Cabins located right along Sherando Lake and just a short drive away. We are nestled right near the George Washington and Jefferson National Forests and convenient to all of the Shenandoah Valley's outdoor recreation areas and attractions.