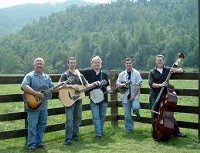 Imagine you are enjoying the serenity of a laid-back weekend at Cabin Creekwood. The sun is warm, the breeze is cool and the earthy smell of the woods has invigorated your senses. What could make your experience to the Blue Ridge Mountains more complete than an accompaniment of some good old Virginia bluegrass music?
The Maury River Fiddlers' Convention is a bluegrass festival that provides a great opportunity to experience live bluegrass music at its finest. This family friendly event is an annual music competition held over two days on the grounds of Glen Maury Park in the city of Buena Vista, Virginia. With beautiful panoramic views of the Blue Ridge, Buena Vista is the perfect setting for a weekend of good old mountain music.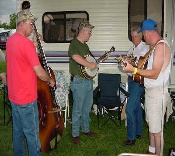 The festival's opening ceremony is scheduled to start on Friday, June 15th, 2012 at 12:30pm with music continuing into the night. Fiddles fire up again at 11:00am on Saturday, June 16th with the closing award ceremony scheduled for 11:00pm. With performances and competitions starting every half hour, you can drop in at any time and not feel that you have missed too much of any performance. According to the Maury River Fiddlers' Convention website, the schedule of events is subject to change depending on the participation of contestants and performers.
The cost of admission for the Maury River Fiddlers' Convention is $15.00 per day or $20.00 for a two day pass. Children 12 and under are admitted free with an adult. There are concessions and vendors at the festival. You will want to bring plenty of money to buy kettle corn, fresh squeezed lemonade and enough "My Grass is Blue" bumper stickers for all your friends and family back home. Glen Maury Park has vending machines on the grounds for snacks and soft drinks. If you prefer a good sit-down meal, Buena Vista has several local family restaurants to cater to whatever suits your appetite.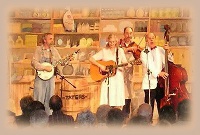 Depending on the route you take and the amount of lead you like to wear in your shoe, Cabin Creekwood is conveniently located about an hour's drive to Buena Vista. Glen Maury Park also serves as campgrounds for festival goers traveling from far corners of Virginia and out of state. Where tents, pop-up campers, and Airstream trailers abound, there will be seasoned pickers, fiddlers, and true "blue" fans. If you plan to spend the day and evening at the festival, you will want to make sure your destination and return route are programmed into your GPS. When landmarks of the scenic drive are darkened by the night sky, it may be difficult to recognize the same road you traveled in daylight.
Keeping in mind that the Maury River Fiddlers' Convention is an open air festival; make preparations to be comfortable while spending an extended amount of time outdoors. In the late spring, Virginia's weather can be deceiving. The mid-June sun and crisp mountain air can mean sunburned days and chilly nights. Remember to wear a hat, sunscreen, and have a light jacket or sweatshirt handy. Don't forget to bring fold-up chairs so you can sit while you enjoy the performances. The chairs you bring should be easy to tote around when browsing through vendor booths. A blanket is an easier seating option and much more collapsible than a fold-up chair. A good picnic blanket can also serve as a comfortable place for a tired kid to stretch out and catch a quick nap.
Bluegrass music has a way of affecting people in ways unique to the individual. I will advise you that you may observe some behaviors in your family that may seem out of the ordinary. If you notice your spouse tapping their foot, do not be alarmed, that is not impatient body language. Your spouse is keeping time with the music. You may even see a crack on your teenager's face, do not call 911; what you see is a smile. The Maury River Fiddlers' Convention is an event that is sure to provide music that will stir the soul and knit an authentic soundtrack to the memory of your family's visit to Cabin Creekwood and the Blue Ridge Mountains.
Going to the Maury River Fiddlers' Convention? Some Points to Remember:
Held over two days: Friday, June 15th- opening ceremony starts at 12:30pm and the last performance of the night at 11:00pm. Saturday, June 16th- first competition at 11:00am, with last performance and award ceremony at 11:00pm
Cost is $15.00 per day or $20.00 for a two day pass, kids under 12 are free.
Concessions are available at festival, restaurants are available in town.
Festival is about an hour from Cabin Creekwood, have good directions and/or a reliable GPS
Dress for expected weather, prepare for unexpected weather (sweater, hat, umbrella, etc.).
Bring easy to carry fold-up chairs or blanket to sit on.
For more information click on the links to these websites:
The Maury River Fiddlers' Convention